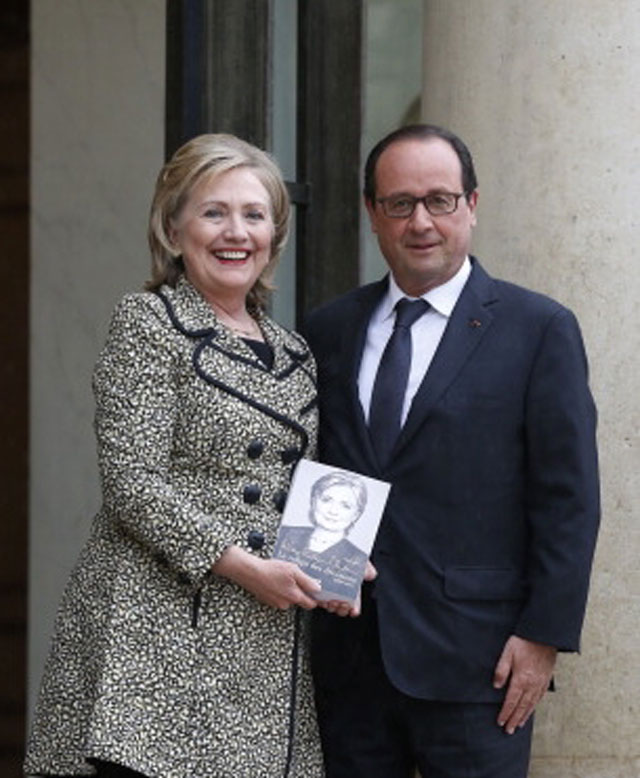 ---
PARIS: US presidential candidate Hillary Clinton is distantly related to French President Francois Hollande, according to a new book that claims they share royal blood from doomed kings of the 14th century.

Clinton, whose maiden name is Rodham, descends on her mother's side from families from Canada's French-speaking province of Quebec, according to French geneologist Jean-Louis Beaucarnot.

These immigrant families can be traced back to more than a dozen regions all over France, Beaucarnot writes in his book 'Dico des Politiques' which was published last Thursday.


Par JL Beaucarnot "Dico des politiques" H. Clinton: des ancêtres français et un lointain cousin appelé… F. Hollande https://t.co/xfRpLNLLYQ

— Frédéric Dumoulin (@FredDumoulin) November 6, 2016


Most notably, back 23 generations, she counts as a relative king Louis X le Hutin, known as "Louis the Stubborn" in English.

Ominously, he died after only 18 months on the throne - officially from pneumonia, although some historians have suggested he might have been poisoned.

US Elections: Pakistani-Americans have picked a side

Hollande is distantly related to Louis' successor and brother, Philip V, known as "Philip The Tall", who lasted six years before dying without a male heir.

As well as sickly kings, Clinton also shares genes with entertainers Madonna and Celine Dion and actress Angelina Jolie, Beaucarnot writes.

Republican candidate Donald Trump traces the paternal side of his family back to Germany to the town of Kallstadt, whose other famous emigre is Henry Heinz, founder of the food giant that bears his name.

Trump's grandfather Friedrich emigrated from there to the US in 1885 where he started working as a hairdresser in New York before being lured by the gold rush further west.

He went on to make a fortune opening restaurants and bars used by miners and workers that offered alcohol and allegedly opium and prostitutes.

Ahead of Tuesday's vote, the latest major survey, an ABC/Washington Post tracker released Sunday, gave Clinton a five-percentage point 48-43 lead over Trump nationally.
COMMENTS
Comments are moderated and generally will be posted if they are on-topic and not abusive.
For more information, please see our Comments FAQ