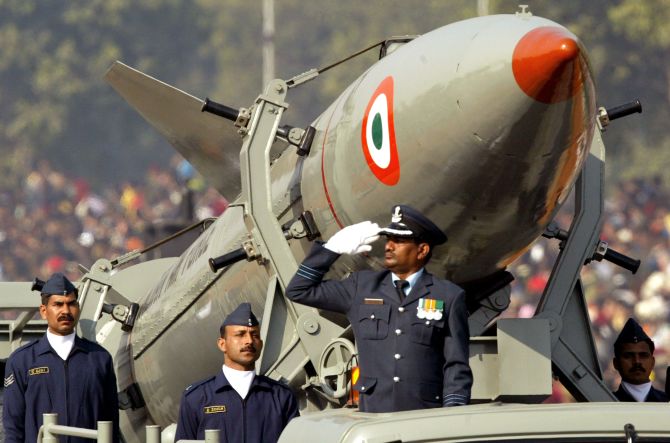 ---
ISLAMABAD: As the escalating war of words between Pakistan and India translated into daily skirmishes at the border, Islamabad on Friday raised the nuclear spectre by expressing concerns over India's fast growing military nuclear programme.

"Pakistan has long maintained that India's rapidly expanding military nuclear programme poses a grave threat to peace and stability in the region and beyond," said Foreign Office Spokesperson Nafees Zakaria at his weekly briefing.

Pakistan offers India bilateral arrangement on non-testing of nuclear weapons

A recent groundbreaking research study revealed that India already has sufficient material and technical capacity to make 356 to 492 nuclear bombs. This work is in contrast to several earlier studies which took a much modest view of the Indian nuclear bomb making potential.




A study titled 'Indian Unsafeguarded Nuclear Programme', published by the Institute of Strategic Studies, Islamabad (ISSI) and co-authored by four nuclear scholars, unveils a new and comprehensive assessment of India's nuclear weapon capacity.

"These concerns have been fully validated by publicly available reports on significant upcoming fissile material facilities and build up of unsafeguarded weapon usable fissile material in India," the spokesperson said while responding to the new study.

Zakaria attributed the rapid growth in India's nuclear build up to the waiver granted to the neighboring country in 2008 by the Nuclear Suppliers Group (NSG).

"It was unfortunate that the NSG did not require India to make any worthwhile non-proliferation commitments at the time," he regretted. He warned that another country-specific exemption by the NSG on the membership question would only further exacerbate the ill effects of the 2008 exemption.

Top UN court rejects Marshall Islands nuclear case against India, Pakistan

"It remains our hope that the NSG member states would make a well-considered decision this time keeping in view its long-term implications for the global non-proliferation regime as well as strategic stability in our region," the spokesperson further said.

When asked about the charges against the Indian official who was being expelled, Zakaria said Surjeet Singh was involved in activities which were not in the interest of our national security.

Rejecting criticism against Pakistan for not acting decisively against all militant groups, the spokesperson made it clear that Pakistan did not draw any distinction between terrorist groups.  "We will not allow our land to be used against any other country," he maintained.

"Pakistan in fact is the victim of foreign funded terrorist elements and the recent Quetta attack is a clear proof of it," Zakaria added in a clear reference to the involvement of Indian intelligence agency in subversive activities.

Responding to the reported statement by US general stationed in Afghanistan that the Haqqani network had a free run in Pakistan, the spokesperson replied, "Let me refer to some media reports in June and August this year reporting killing of a senior leader and four senior Commanders of Haqqani Network in Afghanistan by the US forces, which clearly indicate where the Haqqanis are."

About Pakistan's decision to attend the Heart of Asia conference in India, the spokesperson said this process was aimed at bringing peace and stability to Afghanistan with the collaboration of regional countries.

Foreign Office says it will expel Indian diplomat

Responding to another question that diplomatic community expressed concerns regarding the security situation due to Imran Khan's planned protest on November 2, he expressed his ignorance about any such development.

Published in The Express Tribune, October 29th, 2016.
COMMENTS (10)
Comments are moderated and generally will be posted if they are on-topic and not abusive.
For more information, please see our Comments FAQ