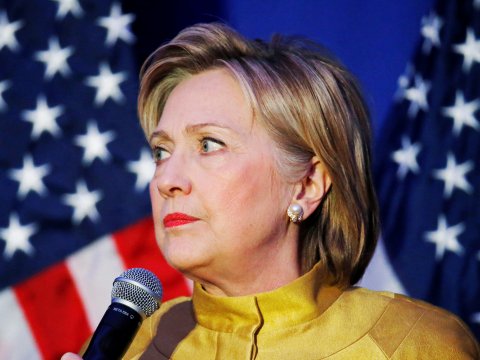 ---
WASHINGTON: The head of the FBI said on Friday the agency would investigate additional emails that have surfaced related to Hillary Clinton's use of a personal email server to determine whether they contain classified information, adding that it is unclear how significant the new materials may be.

Michelle Obama stumps with Hillary, Pence in plane scare

In a letter to key Republicans committee chairmen in the House of Representatives, FBI Director Comey said that he "cannot predict how long it will take us to complete this additional work."

US stocks sink as probe reopened

Wall Street stocks took a sudden turn lower Friday on news that the FBI had reopened the probe.

Near 1730 GMT, the S&P 500 was down 0.3 percent at 2,127.70 after hitting a session high of 2,140.72 shortly before the news broke.

Trump says FBI can 'right horrible mistake' in Clinton probe

Republican Donald Trump triumphantly welcomed the FBI's decision to reopen the probe, saying "perhaps finally, justice will be done."

"Hillary Clinton's corruption is on a scale that we have never seen before," he told cheering supporters in Manchester, New Hampshire, who chanted "Lock her up!"

Hacked emails show Clinton aides surprised at 2015 email revelations

"I have great respect for the fact that the FBI and the Department of Justice are now willing to have the courage to right the horrible mistake that they made" in closing their initial investigation without filing any charges against the Democrat, he said.

FBI found Clinton-related emails on devices belonging to aide, ex-congressman: NYT

New emails the FBI is examining related to Clinton's use of a private computer server were discovered after the agency seized electronic devices belonging to Clinton aide Huma Abedin and her husband, Anthony Weiner, the New York Times reported on Friday, citing law enforcement officials.

Weiner , a former Democratic congressman who resigned in 2011 after he was exposed for sending explicit online messages, is now under FBI investigation over allegations that he sent sexual messages to a 15-year-old girl.

According to NBC News, the emails were sent by Abedin to Clinton from a laptop belonging to Weiner.

"We have heard these rumors. We don't know what to believe. I'm sure there will be even more rumors," Clinton said when asked about the reports.

"That's why it is incumbent upon the FBI to tell us what they're talking about."

Clinton says confident new emails will not change FBI probe's conclusion

Clinton said Friday she was "confident" that the FBI's review of newly discovered emails related to her use of a private server will not change the bureau's original conclusion that she should not face charges.

"The American people deserve to get the full and complete facts immediately," said Clinton, the Democratic presidential frontrunner, in her first comments since the bombshell announcement that the FBI would revisit the matter.

Clinton warns Trump is 'threatening' US democracy

"It's imperative that the bureau explain this issue in question, whatever it is, without any delay," she added at a quickly arranged yet brief press conference in Iowa's state capital Des Moines.

FBI director James Comey, who announced the move Friday in a letter to lawmakers, "has said he doesn't know whether the emails referenced in his letter are significant or not," she said.

"I'm confident (that) whatever they are will not change the conclusion reached in July."

"We are 11 days out from, perhaps, the most important national election of our lifetime," said Clinton.

"We don't know the facts, which is why we are calling on the FBI to release all the information that it has," said Clinton.