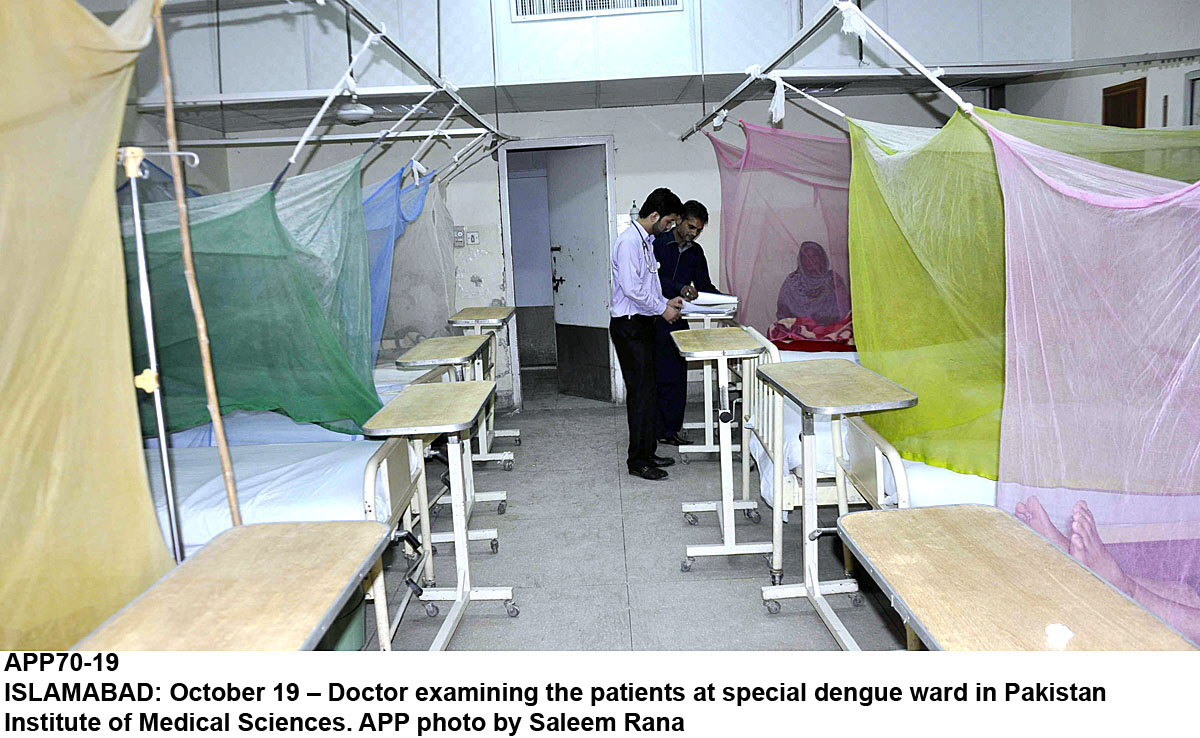 ---
RAWALPINDI: As many as 38 new cases of dengue fever have been confirmed at the three public hospitals of the garrison city on Tuesday as the combined toll for the virus in the twin cities topped 2,000.

Health officials, meanwhile, have warned that owing to warmer temperatures, the dengue season could prevail a while longer, while doctors are concerned about the large influx of patients from Islamabad.

District health authorities and health facilities on Tuesday said that blood results for 38 patients at the three hospitals in Rawalpindi confirmed that they had dengue. Of these, officials said that 21 patients hailed from Islamabad.

Providing a breakdown of the new cases, 12 patients came from the urban areas of Rawalpindi, one from the rural areas, two from Khyber-Pakhtunkhwa, one from Azad Kashmir, and one from Karachi.

With the new confirmations, the number of confirmed dengue cases reported in the garrison city this year has risen to 2,205. Out of these cases, 803 cases came from Rawalpindi and other cities, but 1,402 patients came from Islamabad alone. This imbalance has caused concern among health officials.

Furthermore, 222 confirmed dengue patients are currently under treatment at the three public hospitals of Rawalpindi. Of these, 132 patients are admitted to the Holy Family Hospital (HFH), 74 admitted to the Benazir Bhutto Hospital (BBH), and 16 at District Headquarters Hospital (DHQ).

Of those receiving treatment at these hospitals, 76 are from Rawalpindi, 135 from Islamabad, nine from out of Punjab, and two from other cities of Punjab.

A senior doctor at BBH told The Express Tribune that the three hospitals in Rawalpindi had set up special wards to accommodate up to 300 dengue patients.

He said that the large number of patients from Islamabad had forced the hospitals to set aside 15 beds in every ward specifically for patients from the area.

Published in The Express Tribune, October 26th, 2016.
COMMENTS
Comments are moderated and generally will be posted if they are on-topic and not abusive.
For more information, please see our Comments FAQ