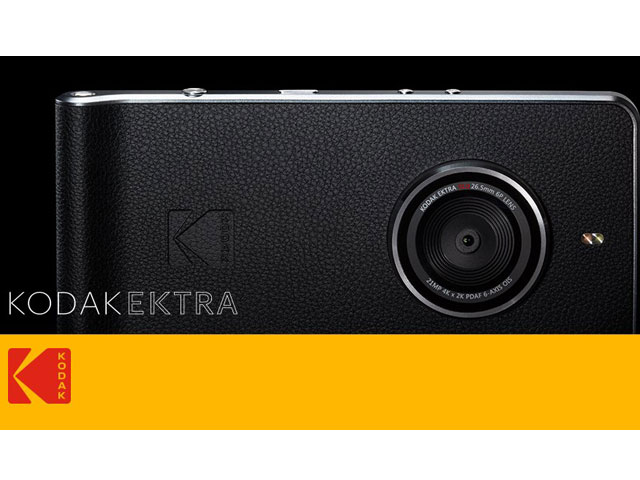 ---
Kodak, the iconic camera maker, is taking a leap into the digital age with its first smartphone.

Kodak Ektra launched this week an Android-based phone which unsurprisingly focuses on taking pictures. It boasts a 21-megapixel camera along with a 13-megapixel front-facing camera for selfies.


Introducing the #KodakEktra phone. Kodak's professional-quality, photography-first smartphone. https://t.co/JBTW1VNzFd pic.twitter.com/aKMluEfCvq

— Kodak (@Kodak) October 20, 2016


Japan focuses on Pakistan for technology transfer

Its features include a big f/2.0 aperture lens, a retro-style body reminiscent of an old Kodak camera leather wrapped around the surface, a curved edge along with a USB type-C port on the side and 32Gb of built-in memory.




The new phone also has a physical button just for its camera with a wheel to change the settings.

"Kodak has a rich history in imaging technology and the launch of the Kodak smartphone demonstrates our ongoing commitment to bringing the latest advances in photography to consumers. The original Kodak Ektra Camera was launched in 1941 and in its latest reincarnation opens up a world of creative opportunities to all who care about photography," Jeff Clarke, Kodak chief executive said in a post.

The company has has partnered with apps like Snapseed to help with editing.

While its photo ability is impressive, it has its drawbacks: the processing speed for the pictures is quite slow along with the thickness of the device. The device runs on a Android 6.0 Marshmallow with a 2.3GHz Helio X20 Decacore processor, and its unclear whether it will upgrade to an Android 7.0 Nougat.

Did Whatsapp 'borrow' new camera, doodling features from Snapchat?

Kodak probably won't lure Samsung and Apple loyalists away from their and may not even intend to (unlike the Google pixel), but it certainly could be a selling point for photo enthusiasts who don't want to lug around a standalone camera.

The phone is expected to arrive in the US soon, expected to be priced at $550.

This article originally appeared on CNN
COMMENTS
Comments are moderated and generally will be posted if they are on-topic and not abusive.
For more information, please see our Comments FAQ