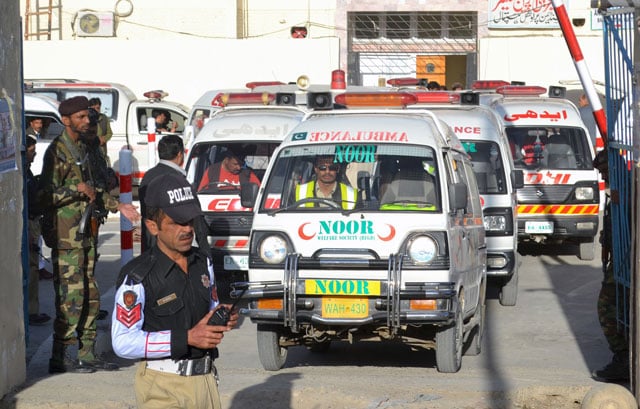 ---
QUETTA: At least 61 security personnel were killed, and 165 others were injured as terrorists stormed a police training centre near Quetta late Monday night.

Three terrorists entered the New Sariab Police Training College, some 13 kilometres away from Quetta city. They headed straight for the hostel where police recruits were sleeping.




Timeline of deadliest insurgent attacks in Pakistan

Balochistan Home Minister Mir Sarfaraz Ahmed Bugti told reporters assembled at the site early Tuesday that the sprawling compound had been attacked by three militants equipped with suicide jackets, revising down an earlier estimate of "five to six" assailants.


Handlers of #QuettaAttack are in Afghanistan

— Senator Sarfraz Bugti (@PakSarfrazbugti) October 25, 2016


"They first targeted the watch tower sentry, and after exchanging fire killed him and were able to enter the academy grounds," he said. "At least 20 were killed but this figure isn't final - we'll confirm it in the morning," he said.




He added, "Frontier Corps' Quick Responce Force (QRF) wing responded along with Anti-Terrorist Force (ATF) and [Pakistan Army's] Light Commando Battallion...one terrorist was killed while two of them exploded".

Militants no longer operating from Pakistan, says Nisar

Prime Minister Nawaz Sharif and Chief of Army Staff (COAS) General Raheel Sharif attended on Tuesday a high-level meeting on security at the Governor House in Quetta.




Army chief arrives in Quetta following deadly attack

IMF Managing Director Christine Lagarde, who is presently in Pakistan, took to Twitter to express condemnation of the attack


.@Lagarde Today, our hearts are mourning together with families of the victims of the tragic terrorist attack in Quetta. #LagardeinPAK

— IMF Pakistan (@imf_pakistan) October 25, 2016


Army chief announces gallantry awards for soldiers killed during Quetta attack: ISPR

During his visit to Quetta, General Raheel announced gallantry awards for Captain Roohullah Shaheed and Naib Subedar Muhammad Ali for their valiant action during the anti-terror operations at Police Training College Monday night. Captain Roohullah was killed in the operation, while Muhammad Ali sustained injuries.



It's nothing else but tit for tat

Having neutralised one suicide bomber, the two cornered the second bomber, helping large number of police recruits escape till the attacker exploded himself. Captain Roohallah has been awarded Tamgha-e-Jurat, while Naib Subedar Ali Tamgha-e-Basalat.

TTP Hakimullah group claims responsibility

A hitherto unheard of group calling itself the Tehreek-e-Taliban Karachi made a claim of responsibility at 10:20am, sending an email to journalists saying four suicide attackers had carried out the attack.

The message said the assault was to avenge the alleged killing of its men in police custody and threatened more attacks to come.

However, the spokesperson for the outlawed Tehreek-e-Taliban Pakistan, Mohammad Khorasani, said the group has not received any information from its militants regarding the attack.

The Hakimullah group says four of its militants took part in the attack. The group occasionally claims responsibility for attacks; but there are serious doubts about the ability of the group to carry out major attacks. Its members are based in Afghanistan's eastern Paktika province which borders Pakistan.

Islamic State claims attack

Militant group Islamic State on Tuesday claimed responsibility for the attack, which was carried out by "Islamic State fighters", the group's Amaq news agency said.

India trying to sabotage moves against corruption: Imran

In August, Islamic State claimed responsibility for an attack on a gathering of mourners at a hospital in Quetta that killed 70 people. But that attack was also claimed by Pakistani Taliban faction Jamaat-ur-Ahrar.

Terrorists belonged to Lashkar-e-Jhangvi

Major Gen Sher Afgan, chief of the paramilitary Frontier Corps in Balochistan, which led the counter-operation, said "the attack was over in around three hours after we arrived."

He added that the militants belonged to the Al-Alimi faction of the Lashkar-e-Jhangvi militant group - which is affiliated with the Pakistani Taliban. "They were in communication with operatives in Afghanistan," he said.




Bugti said the compound was housing some 700 recruits at the time of the attack, hundreds of whom were rescued. "I saw three men in camouflage whose faces were hidden carrying Kalashnikovs," one cadet told reporters. "They started firing and entered the dormitory but I managed to escape over a wall."

Two FC personnel gunned down in Quetta

The area was plunged into darkness when the counter-offensive was launched, while security personnel created a cordon and ambulances zoomed in and out, taking the injured to hospitals. Military helicopters circled overhead.

"We have also received the body of one of the terrorists," doctor Nasir Sumalani said.

Bugti said the law enforcers cleared the operation within four hours, adding that "99% the operation is complete but the forces will remain in the centre till daylight".




Balochistan announces three days of mourning

Following the deadly attack, CM Balochistan Nawab Sanaullah Zehri announced three days of mourning across the province. "The national flag will fly at half-mast," Zehri added.

The training college is situated on Sariab Road, one of the most sensitive areas of Quetta. While militants have been targeting security forces in the area for almost a decade, the training college has come under attack in 2006 and 2008.

Quetta weeps again

The casualties were driven to different hospitals of the city where a state of emergency was declared. Provincial authorities, in the meantime, also made arrangements to fly those with critical wounds to hospitals in Karachi.




Zehri said the terrorists attacked the police centre, which is located on the edge of Quetta, after they failed to hit a target in the provincial capital where security was on high alert following intelligence information about a possible attack three or four days back.

What we know so far:
• At least 61 killed, 165 injured as three gunmen entered the New Sariab Police Training College, near Quetta
• Gunmen headed for sleeping quarters that are home to some 700 recruits
• IG FC in Balochistan Sher Afgan said the terrorists, belonging to LeJ were communicating with their handlers in Afghanistan
• FC in Balochistan led the counter-operation
• Sarfaraz Ahmed Bugti said the compound was housing some 700 recruits at the time of the attack, hundreds of whom were rescued.




The attack came a day after separatist gunmen on a motorcycle shot dead two coast guards and a civilian and wounded a shopkeeper in Gwadar.

Karachi explosion kills 13 policemen, injures 57

In August, a suicide bombing at a Quetta hospital claimed by the Islamic State group and the Jamaatul Ahrar faction of the Pakistani Taliban killed 73 people, including many of the city's lawyer community who had gone there to mourn the fatal shooting of a colleague.




Forces reach attack site

[/fbvideo]

The army has repeatedly been accused by international rights groups of abuses in Balochistan, particularly against nationalists demanding autonomy and a greater share of the region's resources. Balochistan is also a key region for China's ambitious $46 billion China-Pakistan Economic Corridor (CPEC) infrastructure project linking its western province of Xinjiang to the Arabian Sea via Pakistan.

At least 17 injured as roadside bomb targets judge's police escort in Quetta

Pakistan has been battling insurgency since shortly after it decided to ally with the US following its invasion of Afghanistan in 2001. Violence has declined in recent years following a series of military offensives in the northwest border areas as well as concerted efforts to block the militants' sources of funding. But the remnants of militant groups are still able to carry out periodic bloody attacks, particularly in the northwest.

Pakistan blames India for fuelling terrorism in Balochistan in an attempt to sabotage CPEC. A senior officer of Indian navy, Kulbushan Jadhav, was arrested from Balochistan earlier this year.

PM condemns attack

Condemning the attack, PM Nawaz directed federal and provincial authorities to bring the perpetrators to task as soon as possible.


وزیراعظم نواز شریف کی پولیس ٹریننگ سینٹر پر حملے کی شدید مذمت وزیراعظم کا زیرتربیت پولیس اہلکاروں کی حفاظت پر تشویش کا اظہار pic.twitter.com/nROoh285VN

— PMLN (@pmln_org) October 24, 2016


Russia ready to expand counter-terrorism ties with Pakistan: Putin

In the wake of the carnage, Russia has showed its readiness to further expand the counter-terrorism cooperation with Pakistan.

"[Russian President] Vladimir Putin offered his condolences to President of the Islamic Republic of Pakistan Mamnoon Hussain and Prime Minister Nawaz Sharif in the wake of the tragic terrorist attack on a Police College in Quetta," said a statement issued by the Press and Information Office of the Russian president.
COMMENTS
Comments are moderated and generally will be posted if they are on-topic and not abusive.
For more information, please see our Comments FAQ