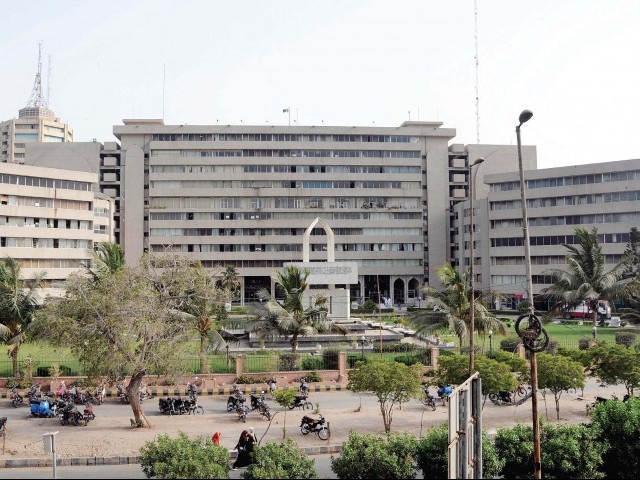 ---
KARACHI: In a tragic occurrence, a dejected elderly pensioner jumped to his death from Karachi's Civic Centre building on Monday.

Sixty-year-old Muhammad Iqbal, a former Karachi Metropolitan Corporation (KMC) employee, took his own life as he jumped six storeys after his visit to the centre in connection with a pension issue.

New Town police said it was an incident of suicide and the 60-year-old reportedly took his life after being refused release of funds. However, a spokesperson of KMC claimed there was no outstanding pension of the former employee and that he had been paid his dues regularly.

20-year-old girl commits suicide in Quetta

The report further said, Iqbal who retired from service in 1999, had been visiting the KMC office in Civic Centre for several months but to no avail.

At the time of the incident, there were no close circuit television cameras (CCTV) installed to record the occurrence, Express News reported.

Earlier on October 13, a 20-year-old girl allegedly committed suicide at her home in the Rindabad area of Sabzal Road in Quetta. The family said that they found the 20-year-old hanging from a ceiling fan in her room.

Espresso delivery boy falls to death in Karachi elevator accident

On August 18, a 26-year-old delivery boy fell to death in the Karachi's Clifton area in an elevator accident, police said. Sajjad Raza, 26, worked at Espresso Café and stepped inside the elevator but fell right off as the lift shaft was not there.

On June 15, a student of University of Engineering and Technology (UET), Lahore committed suicide after he flunked courses several times. The student's family and friends have started blaming teachers and varsity for his fatal step. He belonged to the 2009 batch and was constantly failing for the past six years, although he had received a scholarship from Balochistan to study at UET.
COMMENTS (1)
Comments are moderated and generally will be posted if they are on-topic and not abusive.
For more information, please see our Comments FAQ