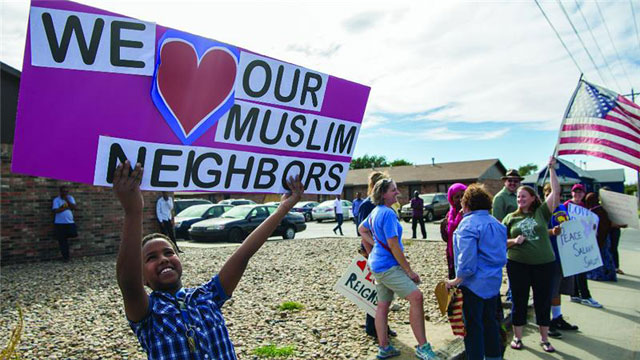 ---
Residents of Kansas city rallied to show support for the local Muslim community after federal investigators uncovered a plot by the local militia members targeting Muslims.

According to US law enforcement agencies, three men were arrested on October 14 and charged in a domestic "terrorism plot" to bomb an apartment complex in Wichita suburbs, home of  several Somali immigrant families.

First grade Pakistani boy beaten on US school bus for 'being Muslim'

Pastor of the Presbyterian Church in Garden City, Reverend Denise Pass organised the rally after she heard of the "terrorism plot"

"When I heard this tragic news, it came to my mind that we - as members of this community and as Christians - should support and protect the local Muslim community," she told Al Jazeera.

Further, Pass said: "The actions of few racist individuals should not be taken to represent the whole community, just as the Muslim community should not negatively labelled or held responsible for the actions of the very few terrorists who happened to be Muslims."

Mursal Naleye, 27, president of the African Community Center in Garden City was heartened by the overwhelming support from the American community in Garden City".

The Muslim US army imam bridging cultural gap between Islam and West

"We are really thankful for everyone who came out supporting and protecting us, the police, the FBI and the local community," he said.

Naleye, an immigrant from the war-torn Somalia, said Somali and other African community members were not involved in anything other than work. "We just want to have a normal life and don't want to bother anyone," he said.

This article originally appeared on Al Jazeera.
COMMENTS
Comments are moderated and generally will be posted if they are on-topic and not abusive.
For more information, please see our Comments FAQ