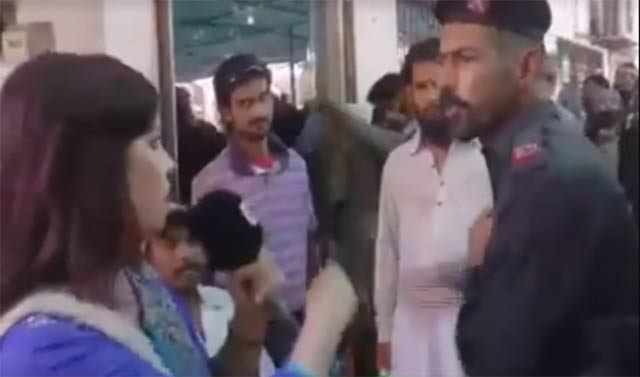 ---
KARACHI: A case was registered on Thursday against a Frontier Constabulary (FC) official after he slapped a female reporter of a local news channel at a Nadra office in Karachi's Liaquatabad.

A video which went viral on social media showed an FC guard on duty slap a female reporter of channel K-21 while she was doing a live programme. The reporter was discussing the problems people face at the Nadra office.

Hindu reporter forced to drink from separate glass at workplace in Karachi

The reporter and the guard got into a rift after the guard allegedly misbehaved with the cameraman and then slapped her when she insisted on filming him. The FC guard also fired 18 bullets in the air after the mob tried to beat him up for slapping the reporter.


What exactly happened here! Reporter tried cashing the situation but it backfired lets say pretty badly. #NADRA #Reporter #k21 #Pakistan pic.twitter.com/k68LR0W4Wb

— Hashim R.khan (@Iamhashimkhan) October 20, 2016


Police confirmed a case had been registered against the FC guard for "conducting aerial firing" and "assaulting" the reporter after the video went viral.

Meanwhile, police officials said Nadra officials have also submitted an application against the TV channel reporter for creating "hindrances in official work".

Chaudhry Nisar orders inquiry

Interior Minister Chaudhry Nisar Ali Khan took notice of the incident, and ordered inquiry.

In a statement, the interior minister said misbehaving with the media representatives cannot be tolerated.