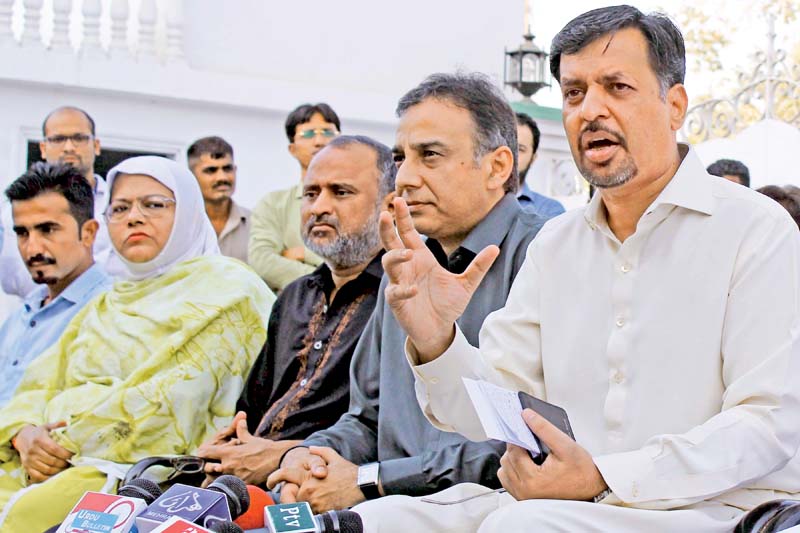 ---
KARACHI: Pak Sarzameen Party (PSP) chairperson Mustafa Kamal alleged that Governor Ishratul Ebad Khan holds British nationality and is a key suspect behind the Nishtar Park bomb blast, May 12 mayhem, Baldia factory fire and massive corruption in important institutions across the province.

Ishratul Ebad 'scourge' for Karachi's well being, says Mustafa Kamal

In a press conference at PSP headquarters Pakistan House on Thursday, former mayor Kamal demanded the 'immediate' arrest of the governor and asserted that action should be taken against him for his dual nationality with initiation of an inquiry for his alleged role in serious crimes and corruption.




The press conference is part of the series of the allegations the two personalities, who once remained close to each other as part of the same party, Muttahida Qaumi Movement, with which they have now parted ways.

The war of words started when Kamal said that the Sindh governor was providing 'oxygen' to MQM chief Altaf Hussain and MQM-Pakistan head Farooq Sattar.

Ebad, who, during his 14 years as governor, always remained soft-spoken and maintained a quiet image of himself, exhibited an unusual demeanour when he replied to the allegations levelled against him by the PSP chief.

He did not just term Jamaat-e-Islami's Niamatullah Khan a better mayor than Kamal - he hinted on the former mayor's alleged involvement in nearly the same crimes mentioned above as well as in the 1998 murder of former Sindh governor and revered educationist Hakim Said along with the the Azizabad arms and ammunition saga.

Mustafa Kamal an 'extremely dishonourable man': Ishratul Ebad

In reply to these comments, Kamal opted to call Ibad a 'scourge' for Karachi and the Muhajir community and demanded that an inquiry be launched on the allegations levelled by both the sides.

Like he usually does in his press conferences, Kamal jibed at the governor as Rishwat [bribe] as it rhymes with his first name Ishrat. The former mayor alleged that Ebad appointed his principal secretary as the vice-chancellor of Dow Medical University. He said that Ebad 'slayed' the merit at Dow and earned billions in corruption by keeping Dr Masood Hamid as its vice-chancellor for four terms.

Mentioning the May 12, 2007 mayhem, Kamal said that all the police and Rangers in the city were reporting to the governor on that day when more than 50 people were killed on the roads in riots. He pointed out that Ebad knew what was going to happen that day and did not let the law enforcement agencies take action against the culprits.

The PSP chief further alleged that Ebad played a role in the tragic Baldia factory fire incident and asserted that he was the man who first got the factory owners arrested and later got them released. Kamal said that if a reinvestigation into this incident is conducted, the ends will lead to the Governor House.

He said that Ebad possessed dual nationality and, due to this, he was not fit to sit as a governor. He accused him of receiving a stipend of GBP 1,000 - the one given to jobless people - every month from the British government. He cited articles from BBC and Telegraph in a bid to add weight to his allegations.

Sindh governor provides 'oxygen' to evil forces, including Altaf: Kamal

Kamal said that as long as Ebad sits as the governor, an impartial investigation could not be done. He demanded that the governor be removed from his seat and taken into custody.

Published in The Express Tribune, October 21st, 2016.

 
COMMENTS
Comments are moderated and generally will be posted if they are on-topic and not abusive.
For more information, please see our Comments FAQ