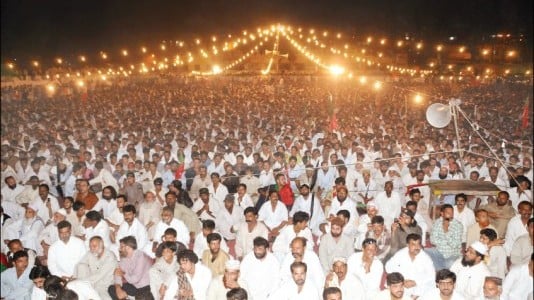 ---
KARACHI: A large number of people belonging to the Hazara community gathered at the railway school ground near Kalapul to protest the renaming of NWFP as Khyber-Puktunkhaw and to demand the formation of a separate Hazara province.

The area was packed with participants and many children sat on the roof of the building. Some activists including Hyder Zaman, a leader of the Hazarawal, flew from Abbtobabad to attend the rally.

Speakers said that their movement will continue till the formation of the new province. They said that the newly-created province would be a prosperous one.

They also said that the community would organise another programme, this time in Nashtar Park, followed by a series of events including demonstrations, rallies, hunger strikes and public gatherings in different cities and towns of the country. Strict security arrangements were made for the rally and a heavy contingent of police and Rangers were deployed. Speakers also included Sardar Yousuf and Mushtaque Ali.