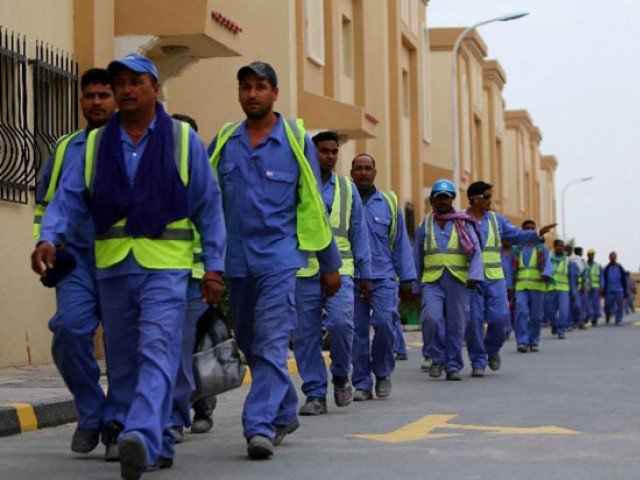 ---
KARACHI: Overseas Pakistani workers remitted $1,609 million during September 2016, down 9.3% compared to $1,776 million in the same month of last year, according to data released by the State Bank of Pakistan (SBP) on Thursday.

Moreover, remittances dropped to $4,698 million in the first three months (Jul-Sept 2016) of the current fiscal year, down 5.3% compared with $4,966 million during the same period of preceding year.

Pakistan faces over 20% drop in foreign remittances




Like many other developing countries, Pakistan's remittances are under pressure due to world economic slowdown mainly because of low oil prices.

Remittances play a major role in stabilising the country's external sector, as they make up for almost half of the import bill and cover the deficit in the trade of goods account.

Pakistan received remittances amounting to $19.9 billion in 2015-16, up 6.4% from the previous fiscal year.

In July 2016, remittances dropped by a significant 20.2% compared with the same month of previous year, prompting some analysts to warn of an imminent balance of payments crisis if the trend continued in coming months.

Declining exports and a gradual slowdown in remittances are major challenges for the economic managers of Pakistan. However, the SBP governor is confident that the country faces no immediate threat from the slowdown in remittances and it is in a much better position to repay debt in the next four to five years.

Country-wise details of remittances for Sept 2016 show that inflows from all major sources have declined significantly.

Saudi Arabia remains largest source of remittances for Pakistan

Remittances from Saudi Arabia, the UAE, US, UK, GCC countries (including Bahrain, Kuwait, Qatar and Oman) and EU countries amounted to $437.87 million, $361.89 million, $210.82 million, $210.18 million, $182.16 million and $43.6 million respectively in Sept 2016 compared with the inflow of $483.21 million, $428.13 million, $260.43 million, $233.27 million, $201.34 million and $33.31 million respectively in Sept 2015.




However, remittances from Norway, Switzerland, Australia, Canada, Japan and other countries during September 2016 jumped to $162.77 million compared with $135.46 million in Sept 2015.

Published in The Express Tribune, October 14th, 2016.

Like Business on Facebook, follow @TribuneBiz on Twitter to stay informed and join in the conversation.

 
COMMENTS (1)
Comments are moderated and generally will be posted if they are on-topic and not abusive.
For more information, please see our Comments FAQ