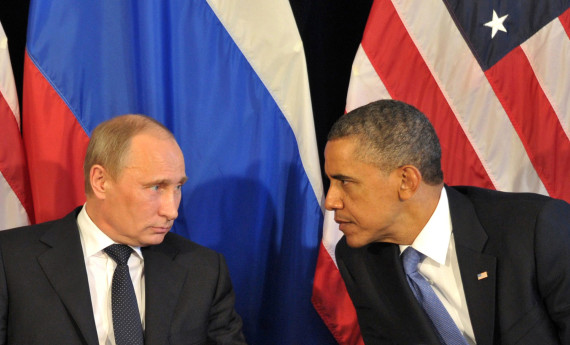 ---
ANKARA: Turkey said on Wednesday it fears the world will be plunged into a global conflict with superpowers Russia and the US on opposing sides if the proxy war in Syria continues.

"If this proxy war continues, after this, let me be clear, America and Russia will come to a point of war," Deputy Prime Minister Numan Kurtulmus said in an interview with official Anadolu news agency.

Obama says not confident Putin can be trusted to cooperate in Syria

Kurtulmus warned that the Syrian conflict had put the world "on the brink of the beginning of a large regional or global war".

While Turkey and its Western allies call for Syrian President Bashar al-Assad to step down, Moscow is a key backer of the regime in Damascus alongside Iran.

Ankara is part of the US-led coalition targeting the Islamic State group with air strikes but it has also supported Syrian opposition fighters to retake territory from the jihadist group since August 24.

Tensions between Moscow and Washington have surged in the last week as the US pulled the plug on Syria talks and accused Russia of hacking attacks.

US Secretary of State John Kerry last week called for a war crimes investigation after accusing Moscow and the regime of deliberately bombing hospitals as a Russian-backed assault on Aleppo in northern Syria continues.

US accuses Russia of harassing, intimidating diplomats

Relations between the two countries were already at their lowest since the Cold War over the Ukraine conflict, with Russia saying it was suspending joint research with the United States on nuclear energy projects earlier this month.

In the interview, Kurtulmus also insisted that Turkish forces at the Bashiqa camp in northern Iraq were "legitimate" and would remain in the country for "as long as necessary".

Tensions are high after Baghdad called Ankara an "occupying" force last week when the Turkish parliament agreed to extend its mandate for military operations in Iraq and Syria for a year.

Turkey has said its forces are training Iraqi fighters to help retake the country's second biggest city, Mosul, from Islamic State in the near future.

Putin 'too embarrassed' to come to Paris: French minister

Kurtulmus's promise came after a bitter war of words between President Recep Tayyip Erdogan and Iraqi Prime Minister Haider al-Abadi on Tuesday.

Erdogan told Abadi to "know your place" and that the leader was not his equal.

Abadi responded by mocking Erdogan's plea to the Turkish people to counter the attempted coup in July via a video phone call.

"We will liberate our land through the determination of our men and not by video calls," Abadi's official Twitter account said.


COMMENTS
Comments are moderated and generally will be posted if they are on-topic and not abusive.
For more information, please see our Comments FAQ