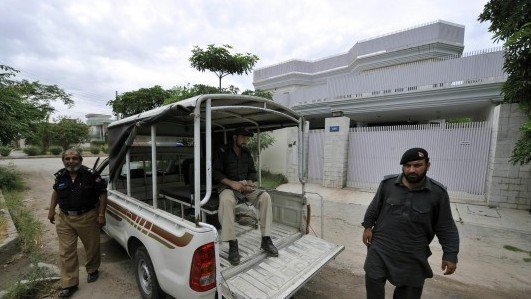 ---
KARACHI: Despite Interior Minister Rehman Malik's insistence that 'foreigners' will not investigate the Faisal Shahzad case, insiders say an FBI team is in town and is jointly interrogating the suspects with the ISI.

However, US embassy spokesperson Richard Snelsire says he doesn't know about the "level of cooperation" between the FBI and the ISI. "I am not in a position to characterise whether the cooperation is good or bad," he says. "The Faisal Shahzad case is being investigated from all angles and it would be premature to say anything about it."

Meanwhile, confusion persists regarding the arrests reportedly made in Karachi. Suspects Tauseef, Rehan, Zeeshan and Taha who were reportedly picked up render no clues. Even the police stations in the areas have no entries about any such individuals having gone missing. Tauseef Ahmed, a resident of Block 13-D/II, Gulshan-e-Iqbal in Karachi, was picked up by intelligence agents early Wednesday morning. Around a dozen agents in civilian clothes raided his house and quietly whisked him away, a source says, adding that another person by the name of Salman or Fida was also taken along with him.

However, residents of the locality, including store owners and tea stall owners say they don't know about Tauseef or the raid. Rehan, the alleged Jaish-e- Mohammad activist, was supposedly picked up from Bahta mosque in Bufferzone. But no one there seems to know him or of any raid. Zeeshan is another suspect who was reportedly tracked down along with his friend near Aladin park. But again, no one in the area, including the chowkidars, saw anything unusual that night.

Some Jamaat-e-Islami activists think Tauseef may be the Islami Jamiat Tulaba senior activist who held the position of a Nazim within the University of Karachi during 2004. However, the IJT's official spokesperson Sarfaraz insists that none of their activists have been picked by the agencies.

Meanwhile, Gulshan-e- Iqbal police station's duty officer Mustafa admits he knew an ISI team had conducted a raid but says he doesn't know when it happened or who was apprehended. "Besides, it's been more than five days since the raid was conducted. Why hasn't anyone from the family approached us to ascertain the whereabouts of their loved ones?" he asks.

Those with links to the intelligence agencies know why. "The family is sent the message that they must keep quiet if they wish to see their loved ones again," says a retired intelligence officer. To create smokescreens, he continues, at times the agencies give out false names too. But why hasn't anybody noticed the raids? "The raids conducted by agency people are not elaborate arrangements with ten mobile vans storming into a suspect's compound," explains to retired officer.

"For example, if the agents have information that their target is about to leave a mosque, as few as two may round up the suspect, put a gun to his back and take him along in a rickshaw or taxi to a nearby safe house or police station and shift him from there in a second vehicle. "

Even Faisal Shahzad's purported links to Jaish-e- Mohammad seem to have faded. "It was all bull****, to begin with," laughs an intelligence officer familiar with the case. "It was a deception created deliberately by the agency." To what end? The officer smiles again and refuses to answer. So who's in charge now, the FBI, the ISI or the FIA? No one will say. And where is the case headed now? "The road leads to northern areas, most probably Waziristan," say the sleuths. But they offer no evidence to support the argument.