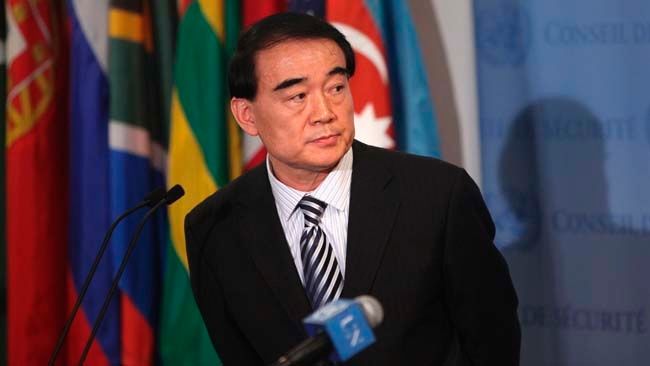 ---
BEIJING: China said on Monday that "no country should pursue its own political gains in the name of counterterrorism" in what India's jingoist media said appeared to be a reference to New Delhi's global campaign to get Pakistan declared a 'pariah'.

China's Vice Foreign Minister Li Baodong said no country should have double standards on terrorism or use it for political gains. Though he didn't name any country, the Times of India newspaper said Beijing "added insult to injury by accusing New Delhi".

India launches biggest crackdown in occupied Kashmir

Li was speaking to reporters on President Xi Jinping's upcoming visit to India for the 8th BRICS summit in Goa on October 15 and 16. The BRICS group of emerging nations includes Brazil, Russia, India, China and South Africa.

"There should be no double standards on terrorism nor should one pursue its own political gains in the name of counterterrorism," Li said while replying to a question on criticism about China's move to stall India's bid for a UN ban on Maulana Masood Azhar, the head of Jaish-e-Muhammad militant group, which New Delhi blames for being behind the January attack on its air force base in Pathankot.

"On counterterrorism, the five countries have consensus. The foreign ministers of the five countries reached an agreement on the margins of the United Nation General Assembly. We hope and believe this Goa summit will build on the consensus and continue to strengthen cooperation on counterterrorism and other issues of political security," Li said.




He added: "Counterterrorism, it is also important area of cooperation among BRICS on political security. Cooperation on this front will enhance BRICS coordination and contribute to world peace and security," he said.

Pakistan lags behind India, Bangladesh in economic growth: report

He said China's position on counterterrorism is consistent and that "China opposes all forms of terrorism".

China's vice foreign minister also said that his country was willing to discuss 'possibilities' with India on its bid to become a fully-fledged member of the Nuclear Suppliers Group (NSG).

India last month said it had held 'substantive' talks with China on its attempt to join the NSG, a 48-member grouping of countries that trades in civil nuclear technology. Indian Prime Minister Narendra Modi is campaigning to join the NSG to back a multibillion-dollar drive to build nuclear power plants in partnership with Russia, the United States and France, and reduce India's reliance on polluting fossil fuels.

Yet his bid to win accession to the group, founded in response to India's first atomic weapons test in 1974, has failed to win over strategic rival China, which enjoys a de facto veto because it operates by consensus.

Li said new NSG members needed to be agreed upon by all existing members. "These rules were not set by China," Li said. "On the issue of joining the NSG, China and India have all along had very good communications, and [China] is willing to have further communications with the Indian side, to increase consensus," he said.

"On this, China is willing to jointly explore all kinds of possibilities with India, but this must accord with the charter of the NSG, and certain rules need to be respected by all sides," Li said, without elaborating.

The nuclear Non-Proliferation Treaty (NPT) recognises the five permanent members of the United Nations Security Council - the United States, Russia, China, Britain and France – as nuclear weapons powers but not others. India has ruled out signing the NPT but says its track record of non-proliferation should entitle it to join the Nuclear Suppliers Group.

India was granted an NSG waiver in 2008 that allows it to engage in nuclear commerce, but deprives it of a vote in the organisation's decision making.

Published in The Express Tribune, October 11th, 2016.
COMMENTS (13)
Comments are moderated and generally will be posted if they are on-topic and not abusive.
For more information, please see our Comments FAQ