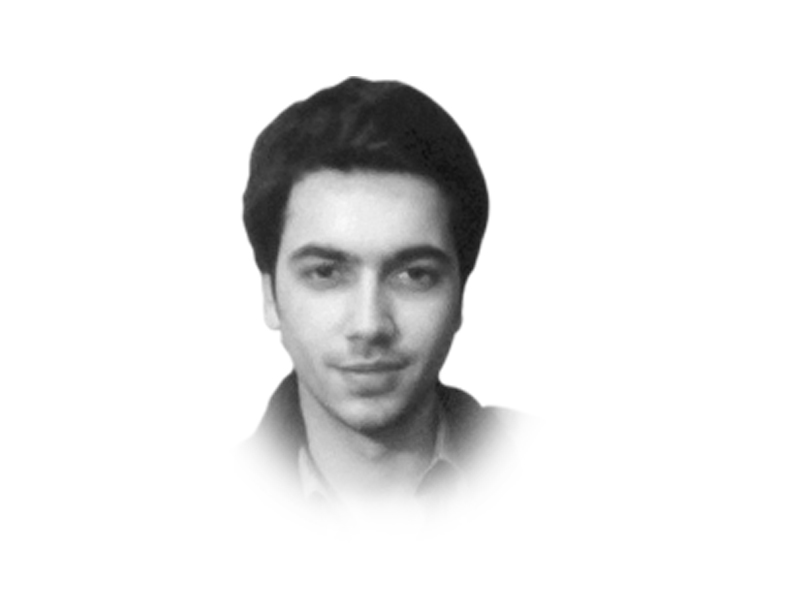 ---
It's true when they say one man's shame is another's pride. Just as it's true there are men in this country that find honour in honour killing.

The sentiment's supposed to be an old one: in certain Ottoman lands, the killer would sprinkle his victim's blood on his clothes and parade through the streets, thus 'increasing his honour.' It would be courting arrest, unless the blood was a sister's or daughter's.

True or not, the story is haunting: even back then, a man's honour was directly related to a woman's body. And even back then, it was thought a fair trade: a woman lost her life, and a man regained his dignity.

A trade that, for all intents and purposes, was legalised in Pakistan. Because when we talk about honour killings, we need to talk less about social norms and more about the codes that encourage these norms: the qisas and diyat laws.

Consider: a woman is murdered over a loss of honour. This 'loss' may flow from seeking divorce (Samia Sarwar), marrying for love (Salma Bibi), or posting Internet videos (Qandeel Baloch) — the murder is uniform and, more often than not, gruesome.

The vast majority of victims are women, and the vast majority of the killers are blood relatives.

That's where qisas and diyat kick in: a relative of the heir could pardon the killer via blood money, and the killer could go free. And because the killer was often a father or brother — and thus related to the victim's 'heir' — Pakistan witnessed the gross spectacle of brothers pardoning brothers and fathers pardoning sons. But the justice system wasn't always a joke. This disaster began as late as 1990 — a car-crash led by Justice Afzal Zullah and piled on by establishment flunkies Ghulam Mustafa Jatoi and Ghulam Ishaq Khan.

It bears repeating from an earlier column — in greater detail than before — that these laws were not initiated by an elected government, that they found no place in popular sentiment at all. In a decision of the Supreme Court's Shariat Appellate Bench, Justices Zullah and Pir Karam Ali Shah — career conservatives — declared parts of the Pakistan Penal Code illegal in 1990. The substitute was deemed the qisas and diyat laws.

Justice Zullah began haranguing PM Benazir to draft these laws. Ms Bhutto knew the judges had sensed weakness (the SC had kept mum on the topic under General Zia). Yet BB fought it out anyway, dispatching her Attorney General to file a review. But President Ghulam Ishaq Khan ended up sacking Benazir, and bringing in Ghulam Mustafa Jatoi as interim PM. Both Ghulams, unloved and unelected, began casting around for legitimacy. They landed on the Supreme Court, and its qisas/diyat pet project.




In the hopes that Benazir's dismissal would be green-lighted by the SC, the Ghulams ingratiated themselves by fast-tracking the qisas and diyat laws. Thus, as Tahir Wasti puts in The Application of Islamic Criminal Law in Pakistan, 'The Supreme Court did not deem it necessary to disapprove a statement made by [an unrepresentative] Government that was only in place for 90 days. It did not ponder over the fact that a law of such enormous importance should, firstly, be enacted by an elected Government and, secondly, legislated after thorough debate — in the National Assembly — of its advantages and disadvantages.'

The ordinance was promulgated, and the result was disaster. 'Compromise' applications flooded the courts. As Mr Wasti's research determined, the incidence of murder increased. At the same time, convictions dropped and compromise shot up; a law that 'let you get away with murder'.

Here's an ordinance thrown together for the wrong reasons, hideously drafted, erroneously applied, and failing in its result. In spite of all this, it was raised to an Act of Parliament in 1997, by the Muslim League. And the rest, as they say, is history.

Now, nearly 20 years later, the same Muslim League is looking to course-correct: it has brought on the Criminal Law (Amendment) (Offences in the Name or Pretext of Honour) Act 2016. The right says it's gone too far, whereas the left says it's not gone far enough: democracy in action.

The root issue remains: the offence of honour killing remains compoundable (i.e., open to compromise), meaning the victim's heirs may still pardon the killer. Yet the new Act means that, whatever their pardon, the killer will still serve a minimum sentence of 25 years.

This compromise on compromise — a sop to the religious right — is unwarranted: if terrorist offences are not compoundable (as provided in the Anti-Terror Act), why should honour killings be treated any different?

Then there's the trouble with such distinctions in the first place: lawyers are already foreseeing situations where the killer can claim a simple murder instead of an honour killing, and thus not attract any such pardon-exemption. Should the court believe his story, the killer may well avail the full pardon and walk out of jail, as majority of them have over the past 25 years.

Thus we circle back to the root: the fact that there's any kind of pardon for any kind of murder at all. No doubt, legislation is about making waves, and honour killings paint Pakistan in savage hues. This amendment is a step in the right direction, and that too as a result of the Sughra Imams and Sharmeen Obaid-Chinoys that led the charge.

But just because the splashiest murders are being exempted from pardon (and not fully) doesn't mean we accept the morality of these pardons otherwise. It's time parliament did away with bad laws, rather than expend its energies on making them less bad.

Published in The Express Tribune, October 11th, 2016.

Like Opinion & Editorial on Facebook, follow @ETOpEd on Twitter to receive all updates on all our daily pieces.
COMMENTS (1)
Comments are moderated and generally will be posted if they are on-topic and not abusive.
For more information, please see our Comments FAQ