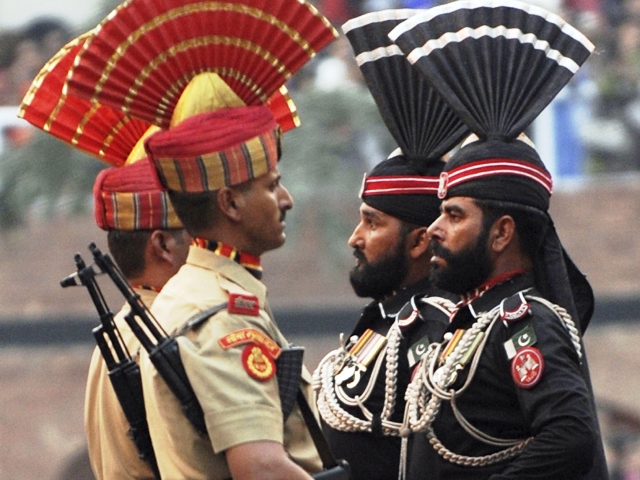 ---
Picking up the gauntlet thrown down by the Indian Prime Minister challenging his Pakistani counterpart to join him in a war against poverty Nawaz Sharif has fittingly retorted back saying that such wars were not fought with 'blood, fire and brimstone'. Indeed, the opportunity cost of India-Pakistan conflict is being estimated to be enormous in socio-economic terms. Continued military confrontation between the two, it is feared, would consign a majority of their populations to a perpetual state of socio-economic stagnation.

In a report titled India and Pakistan: The Opportunity Cost of Conflict authors Shuja Nawaz, director, South Asia Centre, Atlantic Council, and Mohan Guruswamy, non-resident senior fellow of the Centre, have described South Asia as the least economically integrated region in the world, mainly due to lingering territorial and political conflicts between India and Pakistan. The 15-page report released in April 2014 says that this conflict has not only posed huge military expenditures on both countries, but has also hindered economic cooperation. The report which one believes should be a must-read for all official strategists in the two countries maintains that the cost of economic non-cooperation was far greater than the military expenditure borne by the historical rivalry.

The authors mentioned examples of China and Japan, India and China, Russia and the US, and other countries who maintained trade and economic relations despite territorial conflicts and political differences. The volume of indirect trade between India and Pakistan was around $18 billion, while direct trade remained at just $2 billion. The report contended that economic cooperation between the two would lead towards increased direct trade, 'which will in turn benefit the two countries and save them from freight and transportation costs.'

Citing research studies conducted by two eminent Pakistani economists, Pervez Hassan and Shahid Javed Burki, the report estimated that had Pakistan reduced defence expenditures between 1970 and 2010, it could have added 2-2.5 per cent yearly growth to its Gross Domestic Product. India could have seen a similar rate of growth had it opted to decrease defence spending, the report maintains.

According to the report, in terms of two-way trade New Delhi alone could import 300 trucks of fruits and vegetables from Pakistan on a daily basis, and India on its part can replace a number of electronic items at half the price that Pakistan was spending on imports from distant countries.

Moreover, for greater economic cooperation both countries should increase the distance between land forces deployed on their respective borders. More channels should be provided to strengthen people-to-people relations, and militaries on both sides should engage in direct communications. The two countries should jointly invest in energy, water and export industries, and borders should be opened for trade. Opening the border for trade will lead to greater ease in tourism visits.

Economically intertwined and mutually beneficial economic systems in both countries will create a peace and development constituency that will not only be good for the two nations, but also for the region and the entire world. The report quotes Ijaz Nabi, a former World Bank economist, as saying: "If Pakistan wants to play its historical geo-strategic role as a trade hub, it cannot do so without trade with India. If it revives the historic east-west and north-south trade routes, this could be a major source of growth for the next four to five decades. India has a larger role to play in making south Asia — home to much of the world's population — a vibrant economic region." The reopening of historic trade routes would certainly complement the CPEC.

More crucially, a State Bank of Pakistan study has revealed that for 48.7 per cent of the items imported in 2004, the unit values of Pakistan's imports were more than the unit values of imports from India. This report further goes on to state that "even after excluding the items which are currently permissible for imports from India, about 45 per cent of the items still remain on the common list, which could be imported from India at a lesser cost than the current cost of imports from the rest of the world. Allowing imports of such items from India will give Pakistan an average savings of $400 to $900 million."

Published in The Express Tribune, October 8th, 2016.

Like Opinion & Editorial on Facebook, follow @ETOpEd on Twitter to receive all updates on all our daily pieces.
COMMENTS (1)
Comments are moderated and generally will be posted if they are on-topic and not abusive.
For more information, please see our Comments FAQ