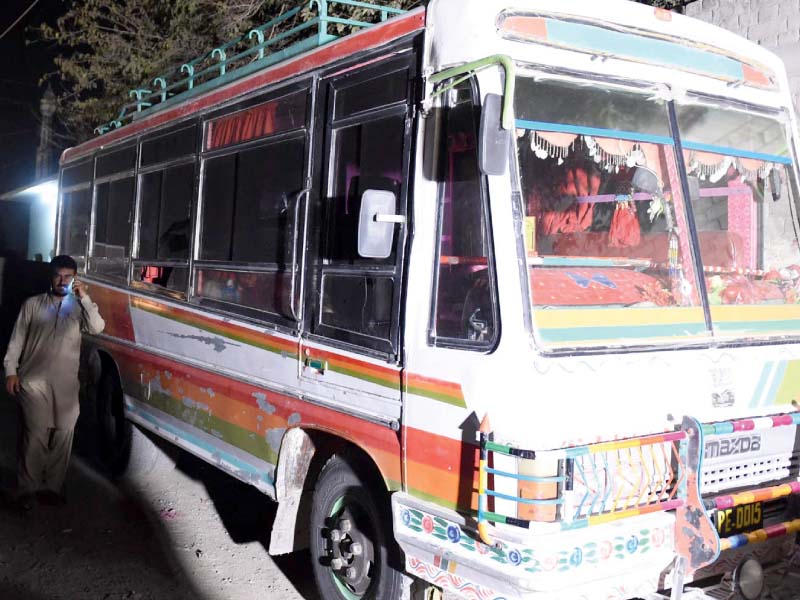 ---
QUETTA: Gunmen riding a motorcycle opened fire on a moving bus carrying Hazara community members and killed four women in an attack apparently motivated by sectarian hatred, officials said.

No group immediately claimed responsibility for the deadly attack on Kirani Road, on the outskirts of Quetta, in which one woman was also wounded.

"The bus was en route to Hazara Town, a Shia neighbourhood, from the city. Three motorcycle riders on one bike intercepted the vehicle, two of them boarded the women section of the bus and shot five women," Abdul Razzaq Cheema, the capital city police officer (CCPO), told journalists. "Four of them died on the spot and one was wounded."

Sources added that in all there were nine women on the bus, but the gunmen identified those belonging to the Hazara community before shooting them, execution-style. According to AFP, Quetta Commissioner Qambar Dashti said it could be a sectarian attack. "This attack on Hazaras' bus could be sectarian but we are still investigating it," he said.

Law enforcers drove the casualties to the Bolan Medical Complex where the bodies were handed over to heirs after medico-legal formalities. A large number of Hazara community members gathered at the hospital to express solidarity with the bereaved families.

The brazen assault points to a jarring security lapse because law enforcers were already on high alert in the city for Muharram and there was a ban on pillion-riding. CCPO Cheema admitted the security lapse. "We are investigating how the gunmen managed to mount the attack," he added.

Secretary Home Akber Hareefal said it was immediately unclear who carried out the cowardly attack and what were their motives. "They cannot escape the law," he added.

Home Minister Mir Sarfaraz Bugti denounced the attack and pledged to bring the perpetrators to justice. "Coward terrorists are now hitting soft targets," he told a news conference. "We have decided to review the security plan for Muharram."

The minister said a commission would be constituted to probe this heinous crime. "Strict action will be taken against any official found responsible for security lapse," he added.

Bugti also hinted that Indian proxies could have been behind the attack. "Terrorist groups financed by Indian spy agency RAW are trying to create instability by stoking terrorism in Balochistan but their evil designs will be thwarted."

Chief Minister Sanaullah Zehri sought an immediate inquiry report on the incident. He also directed that security at all Imambargahs be tightened. The administration has already deployed Frontier Corps, police personnel and other law enforcers in and around all Imambargahs.

Sectarian violence has claimed thousands of lives in Pakistan over the past decade. Hundreds of ethnic Hazaras, who are Shias by sect, have been killed in targeted bombings and drive-by shootings over the past few years in Balochistan.

Interestingly, most such targeted attacks in recent months took place in the area surrounding Pudgali Chowk – the main route leading to Hazara Town. However, no special security measures have been put in place here to preempt such violence.

Published in The Express Tribune, October 5th, 2016.