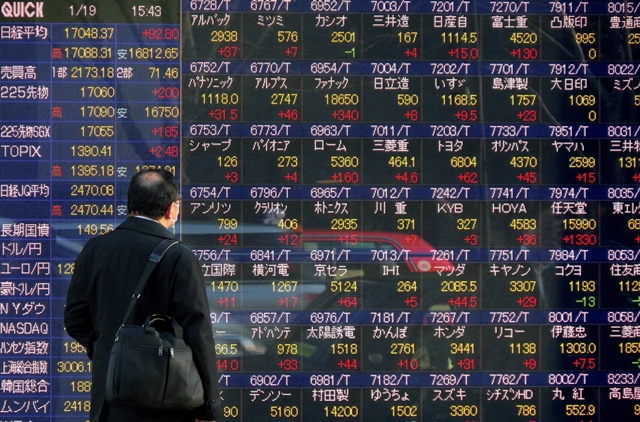 ---
HONG KONG: Asian markets rose Tuesday with Japanese stocks boosted by a weaker yen, while the pound hit a new three-decade low against the dollar as talk of a fresh US rate hike mixed with worries about Britain's exit from the European Union.

News showing the US manufacturing sector rebounded in September helped turn attention back to US monetary policy, days ahead of the release of a closely watched jobs report.

The speculation added further pressure on sterling, which has plunged this week after British Prime Minister Theresa May set a timetable for leaving the EU by 2019.

US factory activity expanded in September, the Institute for Supply Management said Monday, after showing contraction the month before.

Traders took the report as a sign the world's top economy is getting back on track and would be able to withstand an increase in borrowing costs.

The Fed had considered a rate hike last month but held off, saying it wanted to see more evidence of strength.

"The data is suggesting the Fed will likely raise rates in December," Michael McCarthy, chief market strategist at CMC Markets in Sydney, told Bloomberg News.

Pakistan Stock Exchange says Shanghai bourse interested in buying stake

"We'll probably have a couple of months of stronger data gauging from the strength of new orders. The yen weakness is supportive of Japanese exports."

The pound fell to $1.2757 -- its lowest since 1985 -- from $1.2841 while the euro was at a three-year high of 87.55 pence from 87.30 pence.

The pound has been hammered this week after May at the weekend said Britain will trigger Brexit negotiations by the end of March, and her finance minister warned of "turbulence" for the economy.

While the British economy has showed signs of improvement in the months since the shock vote to leave, there are concerns about the wider long-term impact of the bloc losing its second-biggest economy.

"It seems that it is going to be hard to provide a tourniquet for sterling's recent wounds given the solidity of the newly announced Brexit timeline," said Connor Campbell, analyst at traders Spreadex.

The dollar rose to 102.34 yen from 101.63 yen in New York on Monday while the euro dipped to $1.1172 from $1.1211.

Japanese exporters were lifted by the weaker yen, which makes their goods cheaper and helps their bottom line.

The Nikkei closed 0.8 percent higher, just short of the previous day's rise.

Stocks were also up elsewhere in Asia, despite some early wariness after a surge Monday -- fuelled by easing worries about German financial titan Deutsche Bank.

Pakistan fails to tap 75% of global markets

Hong Kong climbed 0.5 percent while Singapore rose 0.3 percent, and Seoul added 0.6 percent as investors returned from a long weekend break.

Sydney also added 0.1 percent as Australia's central bank kept interest rates at a record low in the first meeting for newly minted chief Philip Lowe, amid solid domestic growth and signs that commodity prices have passed their trough.

There were also healthy gains in Taipei, Manila and Bangkok.

Shanghai was closed for a holiday.

In early European trade, the weaker pound lifted London's FTSE stock index one percent to a 16-month high above 7,000 points. Paris added 0.5 percent and Frankfurt gained 0.3 percent.
COMMENTS
Comments are moderated and generally will be posted if they are on-topic and not abusive.
For more information, please see our Comments FAQ