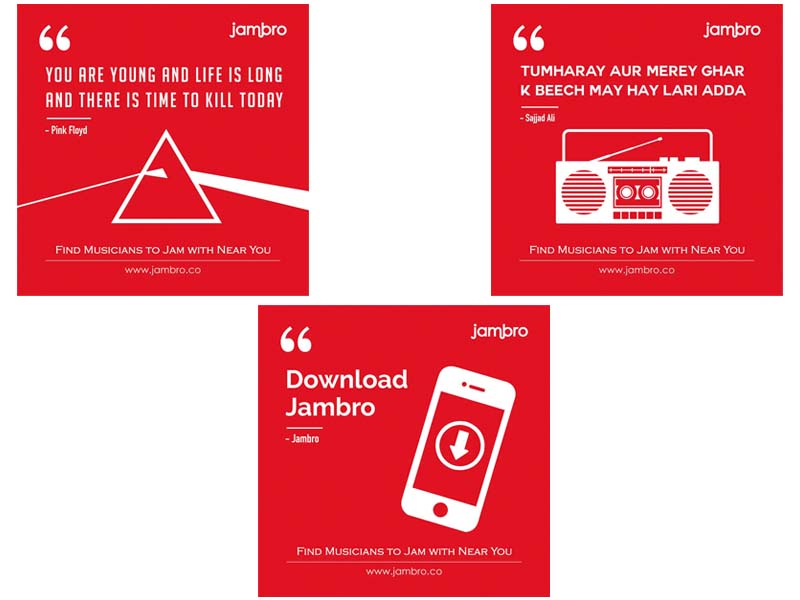 ---
KARACHI: While there are just enough platforms for artists to distribute their music in Pakistan, there are not many networking platforms to connect budding musicians and industry veterans. Jasir Abro, a film-maker and sound engineer has teamed up with Grocode, a marketing optimisation agency, to bridge the industry with aspiring artists. The group, which consists of Abro, Grocode CEO Rishadullah Shaikh, Ali Kazmi and Rehan Baig, recently came together to create a mobile application called Jambro.

Talking to The Express Tribune, Abro described the app as "Tinder for musicians." Speaking about the vision behind the idea, he said, "We are trying to get the bedroom musicians out of their bedrooms and get them together in a community. For example, you are a guitarist and you want to create music so you need a group of your talent level. You will search the app and it will show you musicians available in your vicinity."




The Jambro group hosted a pre-launch a couple of weeks ago which saw over 70 musicians participate. "All musicians had a ball jamming together. It was like a party and everybody got a chance to play. Similarly, we plan to hold monthly jam sessions," shared Abro.

Jambro recently tested the app but aim to release it by the end of Muharram. The idea for the app started a couple years ago but it was only recently that the pace picked up. "We have been discussing this idea for a couple years now. Recently, Shaikh told me he was making the app and wanted me on board so that's how it all came together."

Shaikh shared his take on the project as well. "Recently, I moved near Clifton and I thought how I would connect with other musicians in the locality. We had been talking about the idea for the app but that's when it all came together," he explained.

The project has received a lot of support from the industry as well. "A lot of industry musicians are on board as well. Sounds of Kolachi, Rachel Viccaji and Omran Shafique came out in support because it's good for aspiring artists who don't have many contacts in the industry," added Shaikh. "You know, in today's age, it's easier to text than approach and talk to someone so we devised this app to make it easier for artists to approach each other."




The app is even more helpful in areas with a scarcity of musicians who have no way to get in touch with the industry professionals. "It's even more helpful for artists who are in areas such as Gujrat for instance. In Karachi, Lahore and Islamabad, people are still connected but it's helpful in cities where there's no solid community for musicians," said Shaikh.

Asked whether the project would evolve into something like a distribution platform eventually, providing more options for musicians, Shaikh disagreed. "The idea is to connect musicians with each other. It's not a distribution platform, but a networking one. It's not even commercial, but just an app for musicians to get together and jam and create music."

However, they plan to incorporate more options in the future. "We hope to see it evolve into a big market network for musicians where they can buy and sell equipment. If someone wants to teach, they can find students in the locale or vice versa. So it will be a big social media-like place for musicians. They can all then meet up and jam," Shaikh mentioned.

Published in The Express Tribune, October 4th, 2016.

Like Life & Style on Facebook, follow @ETLifeandStyle on Twitter for the latest in fashion, gossip and entertainment.