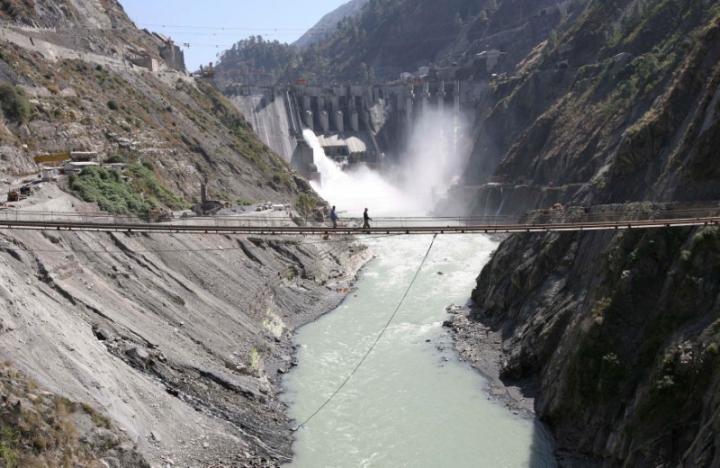 ---
ISLAMABAD: While India has threatened to abrogate the Indus Waters Treaty, a senator of Pakistan Tehreek-e-Insaf said that if New Delhi does so, then Pakistani security forces should carry out surgical strikes against water installations of India.

Pakistan Air Force's 400 fighter jets can easily target India's water installations within minutes," Senator Nauman Wazir Khattak said while speaking in a meeting of the Senate Standing Committee on Water and Power which was convened in the wake of India's threat.

Senator Khattak was of the view that India should be given a clear message that any violation of the treaty would be considered as an "act of war".

'Surgical' farce blows up in India's face




PPP Senator Taj Haider called upon the government on Thursday to review the 31-year-old agreement which he believes was signed by a military dictator to sell Pakistan's rights to India.

Senator Haider was referring to Field Marshal Ayub Khan, who had signed the treaty with then Indian prime minister Jawahar Lal Nehru in 1960 for distribution  of water of six rivers between the two countries.

Another PPP senator, Karim Ahmed Khawaja, supported his party colleague and said the treaty should be reviewed because it currently favours India.

Senator Nisar Muhammad demanded that a full house committee should be constituted to formulate a long-term policy on water issues.

Sheraz Memon, additional commissioner at the Indus Waters Commission, gave a detailed presentation to the lawmakers on the treaty, its historical perspective, rights and obligations, water issues and India's future projects.

Cross-border raid: Strategic analysts laugh off Indian claim

He clarified that the World Bank had brokered the treaty and facilitated the negotiations between Pakistan and India. "It is incorrect to say that it was a guarantor of the treaty."




The bank's key role is related only to appointing a "neutral expert" or acquiring help in setting up a Court of Arbitration, in case of a dispute. "The World Bank is not a guarantor to anything, except these two provisions," he added.

Memon informed the committee that India can use only 20% of the total water carried by the Indus River. He also pointed out the actual treaty is about the distribution of rivers — and not about the distribution of waters.

"According to the agreement, control over the three 'eastern' rivers — the Beas, the Ravi and the Sutlej — was given to India or 33MAF except domestic and agricultural uses (45,500 acres feet of land), while control over the three 'western' rivers — the Indus, the Chenab and the Jhelum — to Pakistan or 137MAF, except domestic, agricultural, non-consumptive and hydroelectric uses," he added.

According to Memon, run-of-the-river (ROR) hydroelectric projects with pondage (small water storage behind the weir of a run-of-the-river hydroelectric power plant) being built by India have been major irritants.

India is allowed to build dams on rivers allocated to Pakistan with the condition that their total storage capacity should not exceed 2.85MAF, in addition to the water required for irrigation and drinking in Indian Occupied Kashmir, he said.

Indus Water Treaty for dummies

"Of the 2.85MAF, India has availed the storage capacity of 0.8MAF so far." Pondage, according to him, cannot stop the flow of water, but it can cause fluctuations in the flow for a few hours.

He said the current thorny issues with India are i) Rattle Hydroelectric Plant (850MW, ROR); Kishenganga Hydroelectric Plant (330MW, ROR) (design aspects only); Miyar Hydroelectric Plant (120MW, ROR); Lower Kalnai Hydroelectric Plant (48MW, ROR); Pakal Dul Hydroelectric Plant (initial capacity 1,000MW, final capacity 1,500 MW, storage) and Wullar Barrage/Tulbul navigation project (suspended since 1985).

He said India does not easily accept Pakistan's objections and gains time by engaging Pakistan in discussions. "At the same time, it continues works on the projects c which ultimately results into a fait accompli for Pakistan."

Memon was of the view that Pakistan needs quick and amicable resolutions of the issues of Rattle and Kishenganga hydropower projects at any level, because these projects have been achieving completion stages at a faster pace.

"A delegation led by Attorney General for Pakistan Ashtar Ausaf Ali met senior World Bank officials in Washington to discuss matters relating to Pakistan's recent Request for Arbitration given to India pursuant to Article IX of the Indus Waters Treaty, 1960."

A representative of the foreign affairs ministry said India has not shared anything with Pakistan so far on this issue, adding New Delhi cannot amend or scrap the treaty. "It's not easy for India to scrap the treaty unilaterally. However, Pakistan should complete its preparedness."

Minister of State for Water and Power Abid Sher Ali said the World Bank has also offered its services in brokering a deal with Afghanistan on the Kabul River, adding that Pakistan needs to build more dams to increase its storage capacity to stop water going down into the sea.

Water and power ministry officials are of the view that India does not have the capacity to block and manage water flowing into Pakistan. They said rivers do not carry a small quantity of water and added that big dams are needed to consume the river water, which India does not have.

The committee, however, expressed fear that India could do this within a couple of years and "Pakistan must initiate steps to counter any such move".

Published in The Express Tribune, September 30th, 2016.
COMMENTS (12)
Comments are moderated and generally will be posted if they are on-topic and not abusive.
For more information, please see our Comments FAQ