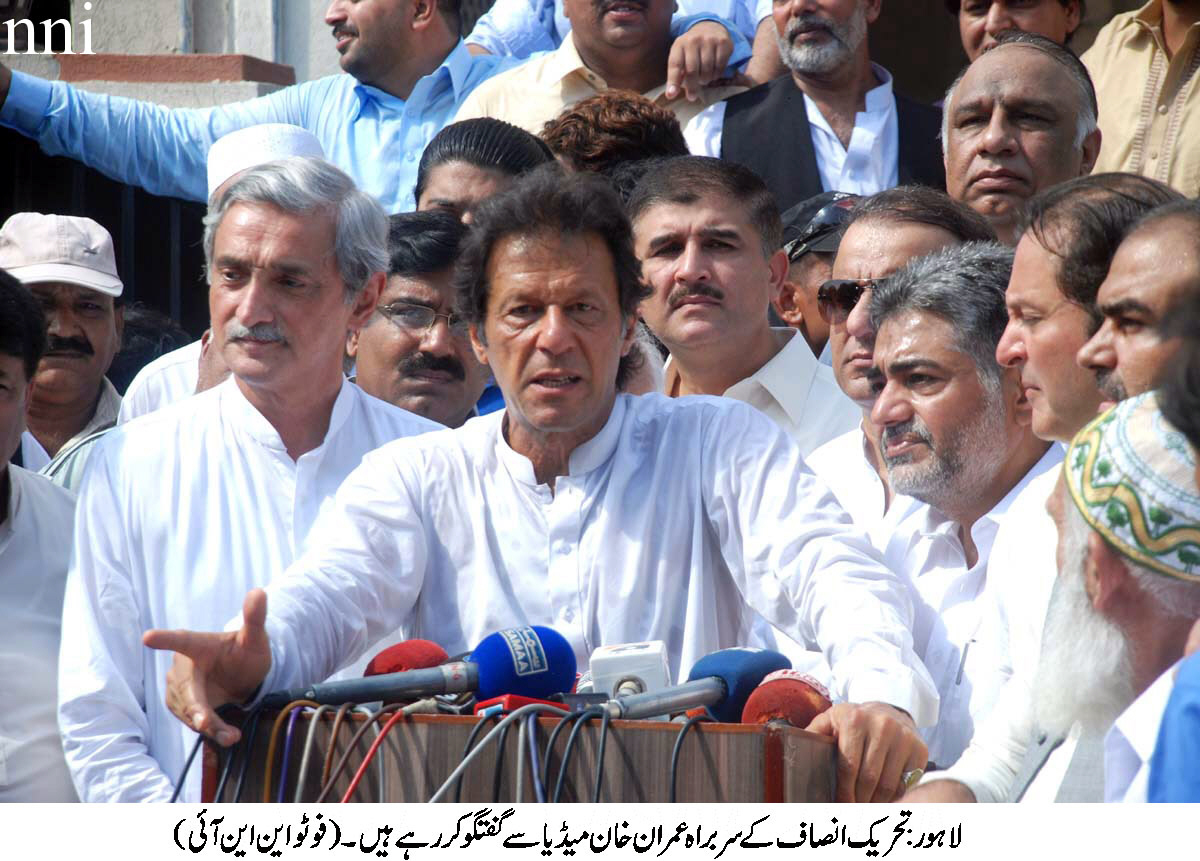 ---
ISLAMABAD: Chanting anti-government slogans, chief of the Pakistan Tehreek-e-Insaf rallied party workers across Lahore on Wednesday in a bid to mobilise them just a day before the Raiwind march.

Imran Khan took potshots at Prime Minister Nawaz Sharif during the rally, shouting:'Gali gali main shor hai, Nawaz Sahrif chor hai' as he urged his party's supporters to join the Friday Raiwind rally.

The PTI chief toured various camp offices across the city, including ones set up in Badami Bagh, Bhatti Chowk, Nasir Bagh, Babu Sabu, Ichhra, Mughalpura, Ghazi Chowk, Liberty Chowk and Wapda Town.

As Imran Khan announced that his party will make its presence felt in the city until the Raiwind protest, the party's district leadership swung into action by holding small rallies.

The Lahore rally started around 5pm and continued late into the night.

On Wednesday, hundreds of supporters thronged to the streets to receive Khan's convoy.




Surrounded by supporters, Khan delivered brief speeches at all camp offices he visited.

During an address to party workers in NA-127, Khan welcomed the Supreme Court's decision to hear their appeal on Panama Papers.

Khan urged the Interior Minister to provide security to the Supreme Court, saying that if the Prime Minister felt threatened, he might resort to attacking the institution. "Those who have been threatening us with batons may just as well attack the Supreme Court," he said, adding that the ruling PML-N had already set a precedent in this regard.

Khan also warned the Election Commission of Pakistan (ECP), saying that it was 'on trial'.

According to him, the country's top electoral body had lost its credibility after "22 political parties expressed lack of confidence" after the 2013 elections.

He invited the farmers protesting nearby to join PTI's Raiwind rally.

Published in The Express Tribune, September 29th, 2016.

 
COMMENTS
Comments are moderated and generally will be posted if they are on-topic and not abusive.
For more information, please see our Comments FAQ