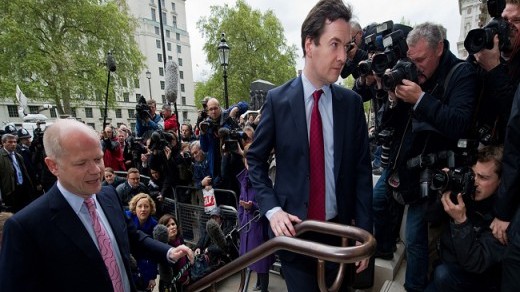 ---
LONDON: Britain's two main opposition parties dug in for post-election talks on forming a government on Sunday, fighting to overcome policy differences and break a deadlock which has left the nation in political limbo.

Conservative and Liberal Democrat negotiators held a fresh round of talks after Thursday's poll ended in a hung parliament, though a deal is not expected before the financial markets reopen on Monday, prompting fears of turmoil.

Both sides have stressed their willingness to do a deal, with Liberal Democrat leader Nick Clegg -- whose smaller party could be kingmakers -- even hinting they could compromise on one of their key policies, electoral reform. But Clegg and Conservative leader David Cameron still face a battle to sell any deal to their respective parties, which are not seen as natural bedfellows and have dramatically different views on big issues like the European Union, defence and immigration.

Speaking outside his London home, Clegg said he was "keen that the Lib Dems should play a constructive role at a time of great economic uncertainty".

Listing his party's priorities, he stressed simply "extensive fundamental political reform". This contrasts with his repeated calls on the campaign trail to ditch Britain's first-past-the-post system for proportional representation, which would favour the Lib Dems.

On the way in to talks with the Lib Dems in central London, Conservative foreign affairs spokesman William Hague said the parties were "very respectful of each other's positions".

Meanwhile Michael Gove, a key ally of Cameron, told the BBC it was "important that we show progress by tomorrow when the markets open" amid fears that sterling and London's FTSE 100 could dip again.

It is thought a final deal is unlikely to be ready by Monday morning but the parties may bid to reassure the markets by issuing some kind of interim statement.

Clegg and Cameron held their first face-to-face talks Saturday on a possible deal which could oust Prime Minister Gordon Brown's Labour Party after 13 years.

Brown later called Clegg for what was described as an "amicable" conversation. The premier has dangled the prospect of immediate reform of the electoral system which could prove tempting to Clegg if his talks with the Tories break down.

Britain remains in political limbo with the Conservatives holding the most parliamentary seats but Brown still holding power while talks between Cameron and Clegg continue.

The centre-right Conservatives ended up 20 seats short of an overall majority in the 650-seat House of Commons, leaving Britain with its first hung parliament for 36 years.

The Conservatives have 306 lawmakers, compared to 258 for centre-left Labour.

The centrist Liberal Democrats dropped back to 57 seats. Cameron emailed supporters Saturday to say Britain expected the Conservatives and Lib Dems to "work out how we can deliver strong and stable government to tackle Britain's big and urgent problems." "Inevitably, these negotiations will involve compromise. But that's what working together in the national interest means," he said, adding: "We won't rush into any agreement."

The Lib Dems are seen as closer to Labour in most policy areas and some senior Liberal Democrats have warned that securing a deal with the Conservatives may not be easy.

Former party leader Paddy Ashdown, who met Clegg for talks Sunday, told the BBC there was a "mountain to climb" if they were to reach a deal.

Simon Hughes, a senior Lib Dem on the left of the party, said the Conservatives would have to give more ground on the issue of electoral reform -- Cameron has so far suggested an inquiry.

"If there's to be a deal, an arrangement, a coalition, whatever it is, with the Conservative Party, they will have to move from the position they've been in, that's unarguable," he told Sky News television.

Any alliance involving the Lib Dems has to be first approved by their lawmakers, the ruling executive and potentially their full membership in a complex system known as the "triple lock".

If a deal cannot be done with the Lib Dems, Cameron is prepared to try to rule as leader of a minority Conservative government, relying on ad hoc support from smaller parties. Alternatively, Clegg could also try and team up with Brown and a number of fringe parties.