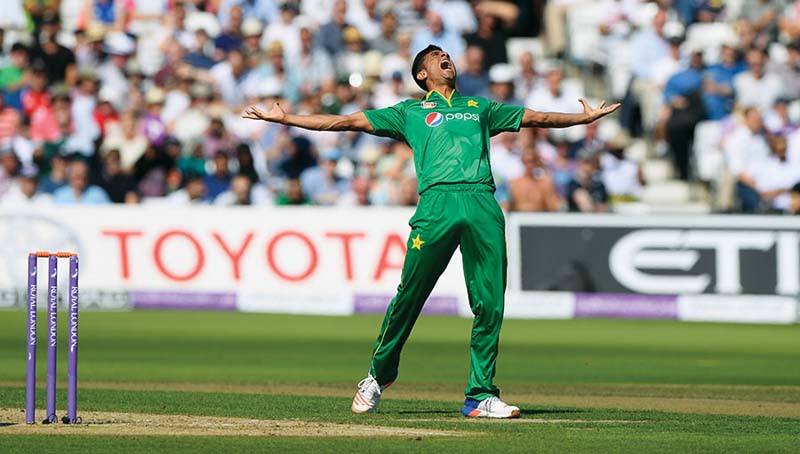 ---
KARACHI: Love and passion for a sport often takes a person through a thorny road and only a lucky few are fortunate enough to have the support of their family while traversing on it. Pakistan's new fast-bowler, 22-year-old Hasan Ali, is among those lucky few.

Not only has Hasan been blessed to have a family who have backed him in his pursuit of playing for the national side since he was 10 years old, he has also been fortunate enough to have a gym and a pitch to practice on in his own backyard.

His elder brother Ataur Rehman, a district-level batsman himself, identified the passion his brother had for the game at a very young age and did everything in his power to provide his brother with the facilities and grooming he needed to make it to the top.

Pakistan set sights on rare series whitewash

"Hasan, since he was five years old, always used to accompany me to the nearby stadiums when I went to practice," Rehman told The Express Tribune. "Then, after a few years, when he was 10 years old, he started to bowl. It was then that I saw his passion for the game and took him to our coach-cum-mentor Ansar Zafar."




Gujranwala's  Zafar, commonly known as 'baba jee', has identified and groomed stars such as Bilawal Bhatti, Imran Nazir and Noman Anwar through his club, the Young Combine Star Club.

It was he who saw that there was talent to be groomed in 10-year-old Hasan and took him under his wing. "When Hasan was brought in, he was just a sixth grader. I asked him to bowl as a trial for admission and upon seeing him I saw a lot of raw talent and agreed to train him," said Zafar. "As the years went by, he improved at a rapid pace and at 14, he was selected for the U16 side."

Umar, Shafiq recalled to Pakistan ODI side

The selection confirmed Rehman's hunch that his brother was a special talent, and in a bid to further nurture it, Hasan's elder brother arranged for a pitch to be made within the very boundaries of their house. Along with the pitch was built a gym, to ensure Hasan remained in peak physical condition.

"Hasan used to practice eight hours a day, every day — two four-hour sessions, working on his physical fitness in the first four and on his bowling in the other four," revealed Rehman.

Such facilities are a rare commodity in Pakistan and Rehman knew it would have been a shame to horde them only for Hasan, special as he was. "The ground and the gym were made for Hasan but they are open to all school-going players to practice for free as well," he said. "I have also built four classrooms for high school students, where teachers are available so that the players can study and practice cricket at the same venue."

Pakistan beat WI for T20 series win

Hasan has impressed in Pakistan's series against world T20 champions West Indies held in the UAE. And Rehman revealed that he has been taking the pacer to the gulf state for domestic matches for UAE-based department Al-Wisha for a while, where both brothers used to play month-long tournaments twice a year.

"The tournaments played in UAE have helped him perform in the ongoing series as he is used to the conditions and knows how to bowl there with variations," he said.

Rehman now hopes Hasan becomes a regular starter for Pakistan and continues to make the family and the nation proud with his bowling.

With the unconditional support of his brother and a newfound fanbase behind him, it would come as little surprise if the man who learned the sport literally in his own backyard goes on to torment batsmen in the world's most famous grounds.

Published in The Express Tribune, September 28th, 2016.

Like Sports on Facebook, follow @ETribuneSports on Twitter to stay informed and join in the conversation.