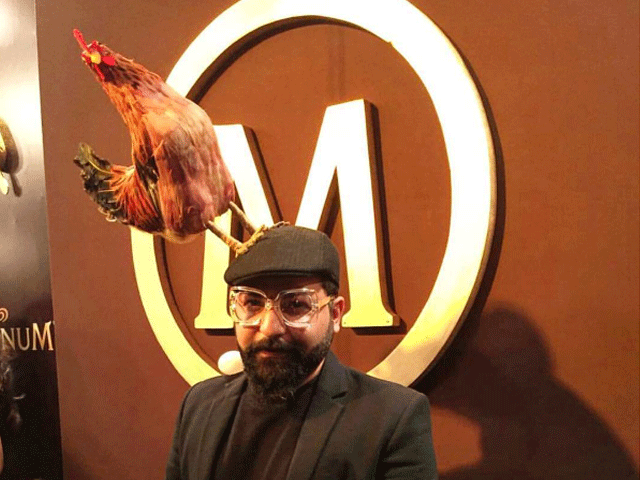 ---
Last night Karachi witnessed one of the biggest parties held this year hosted by Magnum. The attendees were from all walks of entertainment but what went down at the event was rather questionable.

The 'brown carpet' exhibited the glitterati of Pakistan and some real life-art which garnered a lot of attention from social media.

Biting on tempting sartorial choices

Here, we witness a claustrophobic's nightmare:




Ali Xeeshan brought his barn to the party. What's so artistic about a rooster on his head, beats us.




Here's a man soaked in chocolate for the entertainment of attendees




And here's what went on the ramp


The vault: Ali Xeeshan


Keeping subjective aesthetics aside, the art portrayed at the Magnum Party is downright ridiculous. And here's how Twitter reacted:

Looking at some twisted pictures of the Magnum party. A man in a tub. A rooster on the head. Didn't think ice-cream can get u this high.

— Aaliya Javed (@Aaliyajaved) September 21, 2016
Magnum party 2017 will feature self-respect dipped in chocolate 🍫

— Ali Kapadia (@AliKapadia) September 21, 2016
Does anyone know how to stop a magnum party? https://t.co/IOiu6OvQaF

— Mango (@ManhattanMango) September 21, 2016
Have something to add to this story? Share it in the comments.