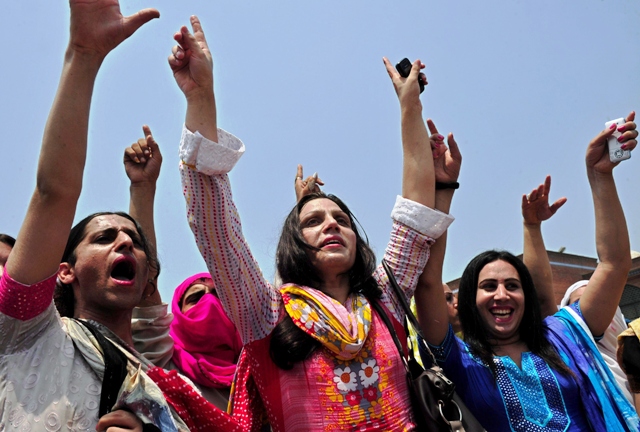 ---
ISLAMABAD: In a strange case of marriage annulment, payment of haq mehar and demand of alimony, the Supreme Court on Wednesday issued a notice to a transgender person who was married off as a woman to a resident of Multan region.

Mohammad Shafi, in his appeal before the apex court, stated that he married Rani Anjum in 2012. But on the wedding night, Shafi said, he found out to his utter shock that his wife was actually a transgender person.

Can transgender marry? 'Yes,' says new Fatwa

Shafi, through his counsel, told the top court that upon this shocking discovery he filed a case for the annulment of the so-called marriage in a family court. However, the family court, in an interim order, directed the 'husband' to pay alimony of Rs15,000 per month to his 'ex-wife'.

The man later challenged the family court's order in the Lahore High Court, which also rejected his plea, compelling him to move the apex court, whose three-judge bench – headed by Chief Justice Anwar Zaheer Jamali – on Thursday took up the appeal against the family court's decision.

The counsel for Mohammad Shafi told the bench that the issue of the annulment of marriage was being heard in the family court. However, the counsel said, through an interim order, his client has been ordered to pay expenses to a person he could hardly call his wife.

'What if you were transgender?'

He took the plea that the transgender is – and cannot be – under Pakistani law and the Islamic Sharia, his wife. "If a person cannot be a legally wedded wife, how the question of alimony and haq mehar can arise," the counsel contended.

He asserted that the family court's order directing Shafi to bear expenses of Rani Anjum is not in line with the law.

To a question of the bench, the counsel said the transgender had filed a case in the family court demanding the agrarian land Shafi had promised to give his wife in haq mehar and the hearing is due on September 29.

The apex court, putting off the hearing till next month, issued notice to Rani Anjum to appear in person on October 2.

Published in The Express Tribune, September 22nd, 2016.