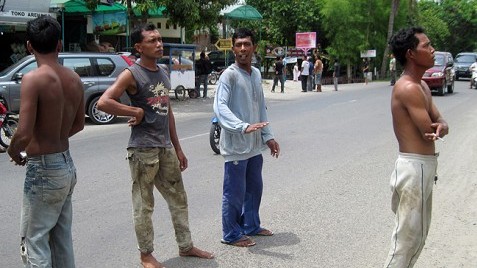 ---
JAKARTA: A powerful quake with a magnitude of at least 7.2 hit the Indonesian province of Aceh on Sunday in an area devastated by the killer waves of the 2004 tsunami.

The quake struck at 12:59 pm (0559 GMT) 66 kilometres (41 miles) southwest of Meulaboh on the Aceh coast, according to the local Meteorological and Geophysics Agency, triggering a local tsunami alert.

The US Geological Survey put the magnitude of the quake at 7.4. There were no immediate reports of casualties or damage although some media said panicked people rushed from their houses and some sought higher ground.

The people of Aceh are still traumatised by memories of December 26, 2004, when the Indian Ocean surged over the northern tip of Sumatra after a 9.3-magnitude quake split the seabed to the island's west.

Indonesia was the nation hardest hit in the tsunami, one of the world's deadliest natural disasters, with at least 168,000 people killed out of more than 220,000 who lost their lives across the region. Indonesia sits on the Pacific "Ring of Fire," where the meeting of continental plates causes high volcanic and seismic activity.

Sunday's quake off Meulaboh, which lies on the northwestern tip of the island of Sumatra, struck at a depth of 30 kilometres (18 miles), the local agency said, while the USGS put thedept at 61 kilometres.

Meulobah was one of the hardest hit areas in 2004, with thousands of people killed and homes destroyed. In neighbouring Malaysia, the Meteorological Department said there was no threat of a tsunami in the country which lies to the north of Sumatra.

However, it said tremors were felt in the west coast of Peninsular Malaysia including in the northern resort island of Penang. A 7.8-magnitude earthquake hit Sumatra in early April, leaving about 17 people injured when some houses collapsed.

A 7.6-magnitude quake killed about 1,000 people in the port of Padang, western Sumatra, in September last year.