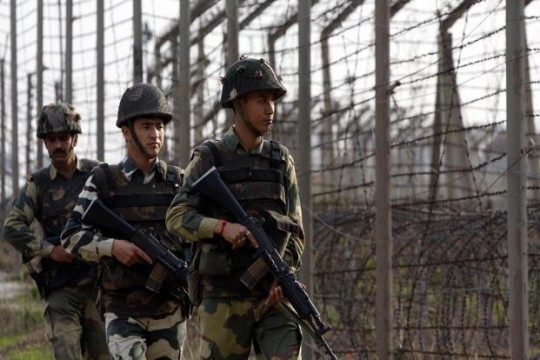 ---
The Indian military is determined to turn the heat on Pakistan in the aftermath of Uri base attack which claimed the lives of 17 soldiers in Indian-held Kashmir on Sunday, Times of India reported.

The Indian army has reportedly resolved to use concentrated artillery barrages and sniping operations and has formally requested the Modi government to consider "limited but punitive" cross-border strikes to send a message to Pakistan, which it holds responsible for the attack. "Yes, there will be retaliation from the other side but it can be dealt with," TOI reported a source as saying.

Modi vows to punish those behind IoK base attack

Some security establishment officials firmly believe that a political decision needs to be taken to send a clear message to Pakistan that "enough is enough". "How long will we keep on absorbing terror strikes, from 26/11 to Pathankot, without effectively retaliating? Our defensive approach only serves to embolden the Pakistan army-ISI combine further," a senior official is reported to have said.

Army contingents along the Line of Control (LoC) and forward IAF airbases on the western front have been put on "full alert", government sources said.

India has long accused Pakistan of supporting 'militant' attacks in its northernmost state of Jammu and Kashmir, which they both claim in full but rule only in part. Modi recently raised the stakes in their decades-old feud by expressing support for separatists within Pakistan.

Pakistan denies any role in cross-border terrorism, and has called on the United Nations and the international community to investigate atrocities it alleges have been committed by the security forces in Indian-ruled Kashmir.

Relations between the nuclear-armed neighbors have been on edge since a New-Year attack on an Indian air force base in Punjab, near the border with Pakistan, that killed seven uniformed men.

India has blamed a Pakistan-based group for that attack but, after initial progress, an attempt to conduct a joint investigation has lost momentum.

The two sides have frozen a tentative peace dialogue.

Kashmir has been divided between India and Pakistan since the two gained independence from British rule in 1947. Both claim the Himalayan territory in full.

Indian-held Kashmir has been in the grip of widespread protests against Indian rule for more than two months, sparked by the killing of a popular rebel leader in a gun battle with soldiers on July 8.

PM Nawaz leaves for New York to attend UNGA session

At least 87 civilians have been killed and thousands injured in the deadly protests and clashes, the worst violence to hit the region since 2010.

Several rebel groups have for decades fought Indian soldiers – currently numbering around 500,000 – deployed in the territory, demanding independence for the region or its merger with Pakistan.

Tens of thousands of people, mostly civilians, have died in the fighting.