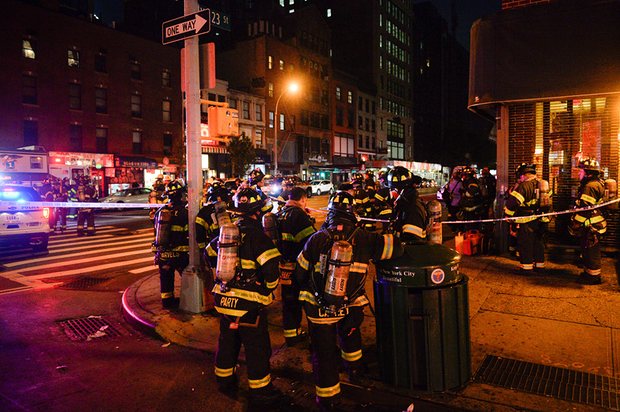 ---
NEW YORK: An explosion in New York's upscale and bustling Chelsea neighborhood injured at least 29 people, none of them in a life-threatening condition, late Saturday, the fire department said.

The cause of the explosion was not immediately clear, but local media reports suggested that it had ocurred in a dumpster.

Bomb explodes in New Jersey along route of planned race

Witnesses living three blocks away told AFP they heard a large boom from their fifth floor apartment, followed by quiet, then the sound of sirens.

Chelsea is one of the most fashionable districts of Manhattan, packed with bars, restaurants and luxury apartments that would be crowded in the weekend.

"There was an explosion earlier tonight at around 8:00pm (0000 GMT), several people injured," a police spokesperson told AFP.

The blast happened on 23rd Street between Sixth and Seventh Avenues in Manhattan. Officials are expected to address a news conference with further details.

The fire department said 29 injures were confirmed at 113 West 23rd Street. "None appear to be life-threatening at this time," the department tweeted.

New York City police officer struck with meat cleaver

President Barack Obama "has been apprised of the explosion in New York City, the cause of which remains under investigation," said a White House official, adding that the president will receive updates on the situation as they become available.

An AFP journalist at the scene said police had sealed off the area and shut down the closest subway station. Police helicopters circled overhead.

A photograph shared by New York's local NY1 television station showed shattered glass in a doorway, apparently caused by the blast.

The explosion came hours after a pipe bomb exploded in a garbage can in Seaside Park, New Jersey during a Marine Corps charity run. It caused no injuries but forced officials to cancel the event.

Panic on NY subway train as crickets, worms let loose in apparent prank

The New Jersey explosion was set for the moment that thousands of runners would be passing the can - but there were no casualties because the race was delayed, said Al Della Fave, a spokesman for the Ocean County prosecutor.

There were up to four timed explosives but only one detonated, Fave told CNN.

New York, which last weekend marked the 15th anniversary of the 9/11 attacks, is the largest city in the United States with a population of 8.4 million people.


COMMENTS
Comments are moderated and generally will be posted if they are on-topic and not abusive.
For more information, please see our Comments FAQ