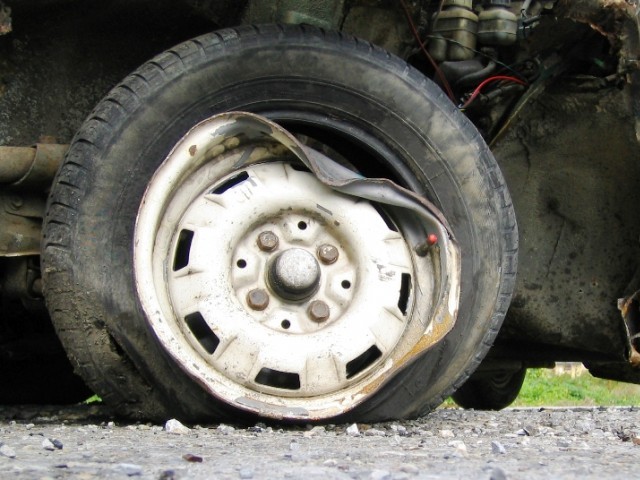 ---
ISLAMABAD: Family of a poor man who is in jail on judicial remand after two persons were killed in a road accident has demanded justice saying he was made a scapegoat to save the real culprit.

Two persons — Abdul Majeed and Muhammad Wajid — were killed in a road accident near Iqbal Town on Islamabad Expressway on July 28.

A Shehzore mini truck LXK-9176 rammed into a Suzuki pickup LHP-824, resulting in two deaths and seven injured. The driver fled the scene but the Khanna police confiscated the truck and lodged a case against unidentified persons.

A few days later a man said to be the driver of the truck was arrested.

Akhlaq Ahmed, the suspect, has been behind the bars ever since.

However, Ahmed's father Fateh Muhammad has submitted an application with the Prime Minister's Public Affairs and Grievances Wing saying his son had been implicated in the case to save the real culprit.

Muhammad told The Express Tribune that his son was looking for a job and met Abdullah Khan, owner of the truck, the same day he was arrested.

"He was looking for a job. Khan in connivance with Arshad and Qadeer Tanoli promised my son a job and took him straight to the police station and turned him over saying he was driving the truck at the time of the accident. I don't know how they made him confess before the police and later in the court," said Muhammad.

Muhammad says when he made noise; the truck driver told him that Ahmed was turned over because he possessed a driving licence, while Aslam Khalil, the real culprit, did not have one.

He also promised Muhammad to pay the lawyer's fees and other expenses to arrange Ahmed's release.

To satisfy Muhammad, Khan also wrote him on a stamp paper in which he accepted that his driver Aslam Khalil was to blame for the accident but "because Khalil had no driving licence, Akhlaq Ahmed sacrificed and went to jail in his place."

He also undertook to bear all legal expenses and also support Ahmed's family until he is released. The truck has since been released and handed over to the owner.

When contacted, Khan said he indeed had signed the stamp paper.

However, he denied that Ahmed was looking for a job. Instead, he claimed that Ahmed was his employee and was driving the truck from Lahore to Islamabad.

Investigation officer SI Mansoor Ahmed said Ahmed confessed to the crime under no duress.

"He told us that he had slept, while driving the vehicle. He also helped us in identifying the place of the incident," said Mansoor.

He said Ahmed's father had not shown them the stamp paper, a copy of which is available with The Express Tribune.

Muhammad says Arshad and Qadeer Tanoli, who run a transportation business  showed him a pistol and pressured him [into withdrawing the case].

Muhammad, who hails from Attock whenever comes to the capital to attend court hearings, has appealed to the authorities to investigate the whole case afresh.

Published in The Express Tribune, September 13th, 2016.
COMMENTS
Comments are moderated and generally will be posted if they are on-topic and not abusive.
For more information, please see our Comments FAQ