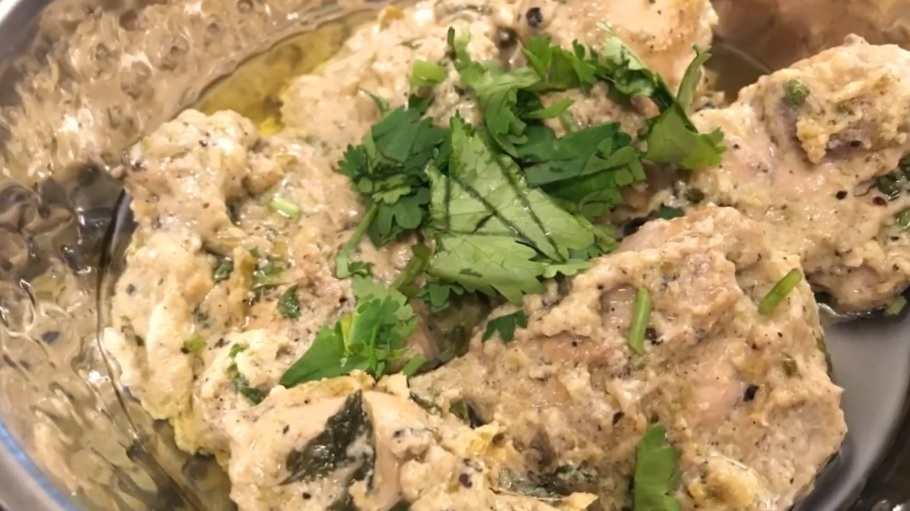 ---
There are a certain recipes you taste in life and they stay with you for a long time. This is one of them. My Khala made this for me and my siblings one time my parents were away on a vacation.

I loved the idea and the simplicity of this dish and the fact that it tastes so freaking good just adds to it.

Ingredients

Chicken -- 250 grams

Yogurt -- 5 tablespoons

Coarsely ground black pepper -- 1 ½ teaspoons

Salt -- 1 teaspoon

Green chillies -- 3-4, halved

Ginger-garlic paste -- 2 teaspoons

Oil -- for cooking

Method

Blend yogurt and chillies together, set aside. Next, take chicken in a mixing bowl, add the yogurt and chilli blend, salt, pepper and ginger and garlic paste. Marinate the chicken for about two hours.

In a pan, heat some oil and add the marinated chicken. Cover the pan with lid and let the chicken cook. Once cooked, turn down flame to low and cook without the lid on to reduce water. Add chopped cilantro and once oil surfaces turn off the heat.

Serve with julienned onions and parathas and enjoy!

Mommy in the Kitchen is run by Sidra Moiz Khan, who juggles her pan and baby by the day and curates a food blog by the night. Follow her Facebook page for more recipes.