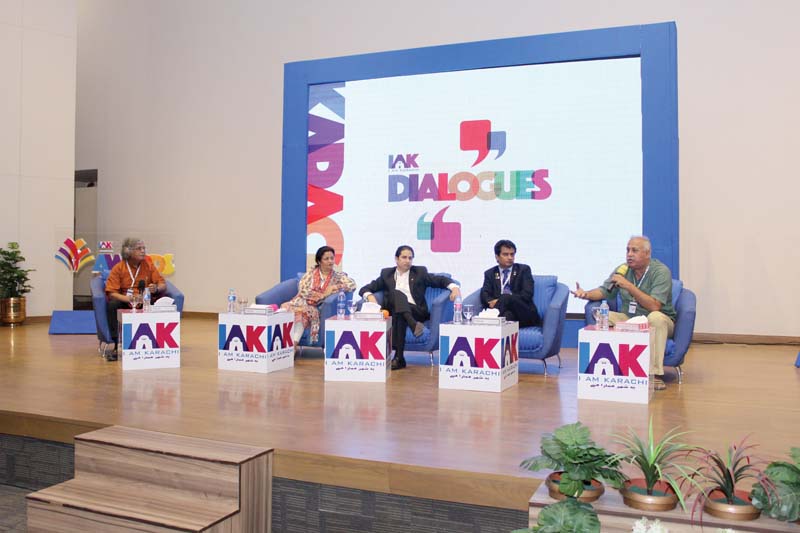 ---
KARACHI: We need to take forward the culture of hope, pride and ownership and revive arts, culture, sports and dialogue via the platform of 'I Am Karachi'.

'I Am Karachi' president Jameel Yusuf said this in his opening address at the launch of 'I Am Karachi's' two new initiatives, 'I Am Karachi' Dialogues and 'I Am Karachi' Awards, during a talk at the Institute of Business Administration's Jahangir Siddiqui auditorium at its city campus on Wednesday morning.

"I speak here as a man in love with the city. The city represents frustrations and aspirations of its people,"  said Yusuf.

The 'I Am Karachi' project will help alleviate the image of the city, hoped Yusuf. "The launch of a grand, determined movement will certainly bring change and peace for Karachi," elaborated the businessman and former chief of the Citizens Police Liaison Committee.




"We are here to celebrate the life of and understand the city. We should hope to celebrate multiple identities amongst ourselves, for diversity is the glory of this place," said senior journalist Ghazi Salahuddin was moderating the dialogue series. "Look at the great city of London, that elected a mayor on the principles of diversity," he added.

"You get to hear 20 different languages from the residents of this city, even if you visit a park," shared educationist Baela Raza Jamil, one of the panelists at the event. Having dynamic memories of Karachi, Jamil said that she felt at home whenever she visited the city as it was where she first started school and a place where her father was first sent to jail.

"Crime is present in this city, but one shouldn't just harp on that same tune. Karachi is also resilient," stated educational specialist Sibtain Naqvi, adding that if there is garbage on the street, we [citizens] need to pick it up, rather than blaming the government. Dialogue is critical for growth and understanding, he believed.

There are issues such as transport and peace initiatives within the city that need to be discussed, said journalist Wusatullah Khan. "The reality of the common man is that ownership does not lie with him. The state does not prioritise these legitimate issues, nor does it deal with it," said Khan.

"Transport issues play a pivotal role. It is here that the need for dialogue becomes evident - we need to talk about it," said television talk show host Rizwan Jaffer.

"The city has become cold after 9/11. It is a fractured place, but one can see a mosaic that can create multitudes of thinking patterns," said Jamil, adding that Karachi is a good place to create dialogue as it is dynamic.




There are certainly many civic challenges that need to be addressed, from water crisis to electricity woes and transport problems, but Karachi does not lose its charm, said Naqvi, adding that it [Karachi] is like a friend who speaks less, but when it does, it speaks beautifully - it is a difficult mistress to please.

Khan praised the city for providing us with a great man like Abdul Sattar Edhi. Nobody sleeps hungry in Karachi, he said, pointing out other significant things and people of the city, such as, Dr Adeebul Hasan Rizvi, the Edhi ambulance service, Saylani Dastarkhawn and the education of the numerous children on the streets of Orangi and Korangi.

Published in The Express Tribune, September 8th, 2016.
COMMENTS
Comments are moderated and generally will be posted if they are on-topic and not abusive.
For more information, please see our Comments FAQ