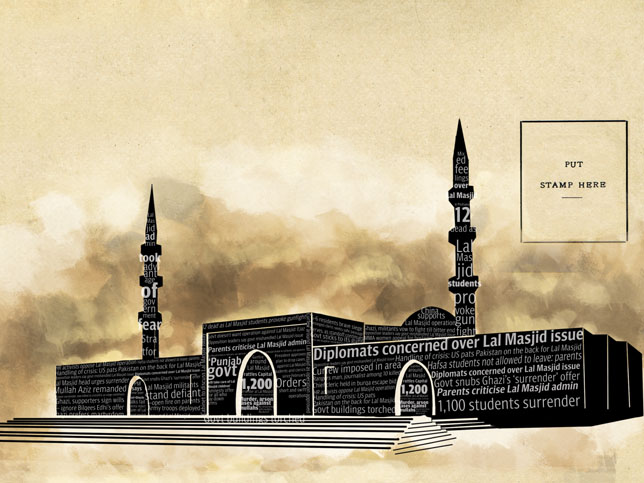 ---
ISLAMABAD: In a surprising move, a state minister on Tuesday opposed an adjournment motion favouring security forces' proposed crackdown against 'ultra extremist' elements in Lal Masjid in the upper house, terming it 'hypothetical,' which led to the motion's rejection.

The adjournment motion was moved by Colonel (retd) Tahir Mashhadi during the latter half of the Senate session. He cited media reports about launching a crackdown on the seminary's radical elements.

Banned documentary on Lal Masjid cleric screens behind closed doors

"This is hypothetical and sub judice (matter)," said Interior Minister of State Balighur Rehman, while opposing the motion, saying that a related case was pending in the court of law.

However, when acting Chairman Senate Ahmed Hassan rejected the motion, an infuriated Mashhadi told the minister: "Do not protect Maulana Aziz. I know you are his sympathiser, but please stop overdoing it."

Senate once again witnessed turmoil and disruptions as the acting chairman struggled to keep the house in order. Deputy Chairman Senate Abdul Ghafoor Haideri is not regularly attending the house proceedings reportedly because of some personal reasons.

On several occasions, Ahmed Hassan, the acting chairman was seen reading out what appeared to be pre-determined outcomes and consulting senate staff on different legislative matters.

The session also remained suspended for a few minutes on Tuesday because of lack of quorum, which was pointed out by Rehman Malik of PPP.

The atmosphere became emotionally charged when Malik sought the chairman's permission to share his views on the Defence Day and surprisingly, the acting chairman declined. This did not go down well with the former interior minister.

Later, Lt-Gen (retd) Salahuddin Tirmizi, who took part in the 1965 war against India, sought permission to speak. The ex-general's contention was supported by Leader of the House in Senate Raja Zafarul Haq. This prompted Rehman Malik to hit back.

"We, the civilians have no right to speak? First an ex-colonel spoke. Now, an ex-general is speaking!" he said, but later conceded to Tirmizi's speech while the acting chairman Senate barred other senators to speak on the Defence Day.

Video lands Lal Masjid cleric in hot water

Both Tirmizi and Mashhadi spoke highly of Pakistan Army's successes in the 1965 war.

Ironically, the acting chairman, who belongs to PPPP, remained under fire from opposition senators after he rejected another adjournment motion moved by Ateeq Sheikh regarding Sui gas companies.

"Mr chairman! I can see that you have not given ample opportunity to the honourable senator to explain his stance!" Nauman Wazir told Ahmed Hassan, soon after he rejected the adjournment motion.

Later, the house accepted a motion authorising the chairman Senate to nominate members within 10 days for a 20-member committee for amending the National Accountability Ordinance 1999.

Published in The Express Tribune, September 7th, 2016.
COMMENTS (1)
Comments are moderated and generally will be posted if they are on-topic and not abusive.
For more information, please see our Comments FAQ