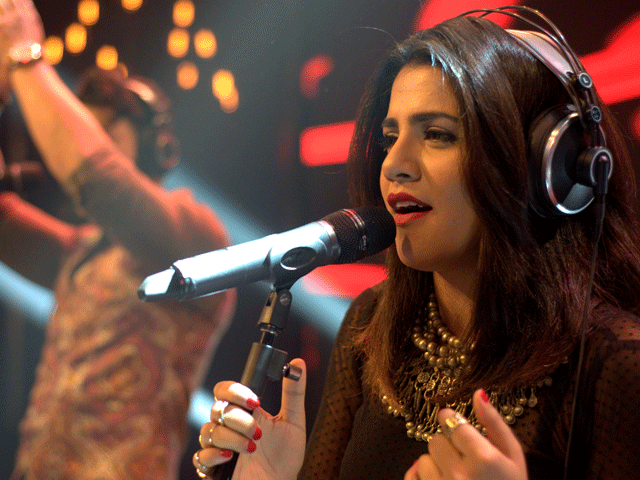 ---
Single. Check. Coke Studio comeback. Check. Bollywood debut. Check. One can now safely say that Quratulain Balouch has begun to take her potential seriously. Those who still need evidence, should take a look at how 2016 has panned out for her so far.

Quratulain Balouch is back, or is she?

While she was still not fully done with the appreciation coming her way for her Coke Studio 9 release Baliye (Laung Gawacha), her Bollywood debut song made it to the internet. We will get to that in a bit.




Baliye (Laung Gawacha) is her third Coke Studio venture after Panchi and Sammi Meri Waar. As was the case with the previous two songs, she was once again appreciated for her vocal prowess that came through in a way more prominent than that of last season.

QB's debut Bollywood song is out!

Talking to The Express Tribune, Balouch, who is conveniently referred to as QB, shed light on her involvement in the current, experimental season of Coke Studio. "Talking about patriarchal norms … with four options in Jaffer Zaidi, Noori, Shuja Haider and Faakhir, Noori, both were my best bets," she said.




QB said ever since her first experience on the show, its format has changed drastically. "With Rohail [Hyatt], you had the freedom to be creative. There was a support system, as far as content is concerned. Now, even with creative giants on board, everything is pre-planned. Music is already penned down for the 'vocalists' and it has become more commercial than ever, since it's one of the most viewed programs all over the world."

We want to be entertained by female singers but won't let our daughters sing: Quratulain Baloch

With her music directors Ali Noor and Ali Hamza, she seems to have quite an equation. They produced her recent release, Pyar Wyar, as well. "We made Pyar Wyar because we got connected via Coke Studio, which was quite spontaneous. Pyar Wyar is a product of my true emotions and sheer Noori brilliance. It was an experiment, so don't think I will be going back to the drawing board," she added.

As compared to Sammi Meri Waar, where she simply kept repeating the chorus, QB had a bigger singing part in Baliye (Laung Gawacha). Perhaps pointing towards the reinforcement of image stereotypes, she said, "It's not about a greater share in the song but as a singer, the kind of preconceived notions that are within the perimeters."




Her bluntness clearly explains why the story line of Pink, the Indian movie which has her song Kaari Kaari in its soundtrack, clicked with QB. "Ronnie Lahiri, the producer of the film, shared the concept of the song and story that highlights rape culture and the biases attached to it," she said, adding more on the subject, "How our society vilifies women, especially when they show defiance against the usual norms and dare to speak up."

QB admits she could not resist being part of a film that was questioning all of this. "I have made my way out of a feudal system so giving the song my voice became almost mandatory."




The upcoming Amitabh Bachchan-starrer, whose trailer has caused quite a stir on social media, has two Pakistani talents working on the soundtrack – QB and Faiza Mujahid. While Mujahid's Jeene De Mujhay came out earlier, QB's song has released only recently.

Kaari Kaari speaks volumes about who QB is, especially as an artist. The video is equally captivating, showing clips from the film and actors Taapsee Pannu, Kirti Kulhari and Andrea Tariang lip-syncing to QB's voice. It does not have any ornamentation, effects or frippery and shows women going about their daily lives with a lingering sense of fear.

Have something to add to this story? Share it in the comments.