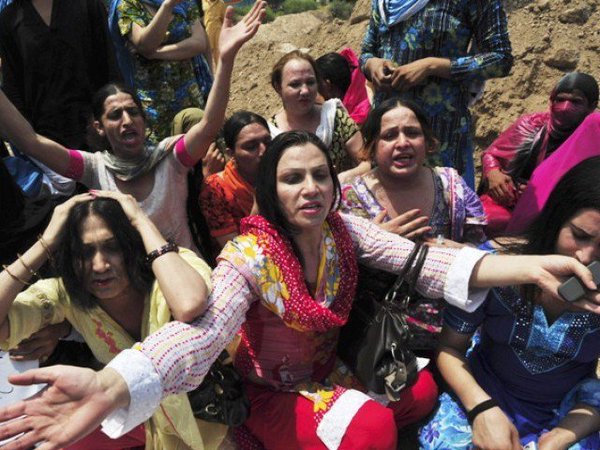 ---
PESHAWAR: Four people who are transgender were physically assaulted and tortured in Kachi Mohalla area of the city.

While speaking to The Express Tribune, a person who is transgender, Paro, said two men, Mani and Hamza, invited them to perform at a musical programme. She added while she, Ayesha, Gulalai and Zamurd were performing, more than three men physically tortured them by saying they were spreading vulgarity.

"The culprits also took away a gold locket and cash and fled from the site."

Paro added they went to the police station to file a complaint, but officials were reluctant to file an FIR. "I told my transgender friends not to attend any musical function due to the society's spiteful behaviour towards us, but they still attended the programme, saying they were there to make people happy." However, the police have claimed to have arrested two suspects in the case and said the complaint was also registered.

A police official told The Express Tribune Paro filed an FIR with Hashtnagri police, saying they went to perform at a musical programme in Kachi Mohalla. During the event, at least five people started beating them. They also took away a golden locket and Rs20,000 from Ayesha, the official added. The statement, which was registered after 15 to 16 hours of the incident, read the people who tortured them included Asfandyar, Usman and Salman.




When contacted, SSP Operations Abbas Majeed Marwat confirmed the arrest of two culprits after the incident while search for the others was under way. "We have instructed the transgender community to gather information about the people who invite them for events before attending the function."

He said the culprits usually do not get punished by the court due to out-of-court settlements. He maintained that the people who are transgender persons should not settle torture and assault issues outside the court. He added directions have been issued to the police stations to respect the transgender community and provide assistance to them in case of emergency.

Condemning attack

While reacting to the incident, a rights activist Qamar Naseem, said, "It is not something new. The people of this community were and still are vulnerable."

He added from January 2015 to July 2016, almost 46 transgender persons were killed in Khyber-Pakhtunkhwa, while more than 300 were tortured.

Similarly, another human rights activist Taimur Kamal condemned the fact that the incident took place on Saturday, but the FIR was registered on Sunday evening only after the matter was highlighted by the media.

He pointed out that people who are transgender were frequently attacked, tortured, robbed and even killed due to the lack of police interest.

During 2016, at least 56 cases of sexual assault, intense violence and burning of people who are transgender were registered while 90 other cases were not reported.

Published in The Express Tribune, August 30th, 2016.

 
COMMENTS
Comments are moderated and generally will be posted if they are on-topic and not abusive.
For more information, please see our Comments FAQ