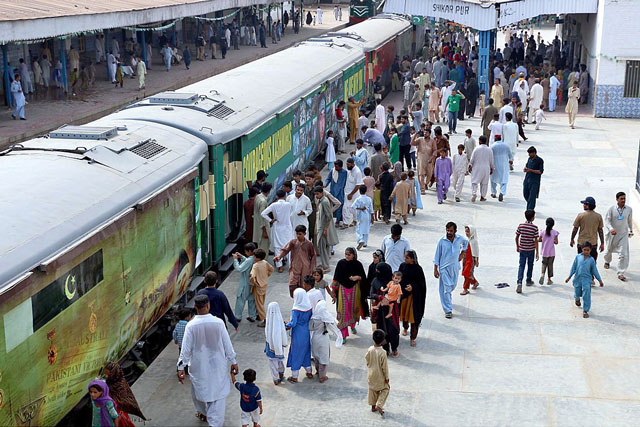 ---
SUKKUR: A large number of people gathered on Friday night at the Sukkur railway station to catch a glimpse of the Azadi Train, which depicts the rich history and culture of Pakistan. The residents of Pakistan Sweet Home, Sukkur also visited the railway station to educate themselves about the country's history.

According to reports, the Azadi Train, which is being run by the Pakistan Railways, reached Sukkur on Thursday night and was stationed there for 24 hours before it left for its next destination.

As its name denotes, the Azadi Train had on display a wide variety of models from Khyber-Pakhtunkhwa, Balochistan, Sindh, Punjab and Azad Jammu and Kashmir, each depicting the history and culture of the provinces and regions. Besides this, it also carried the history of Pakistan Railways and models of arms and ammunition, planes and artillery used by the military.

Sukkur's residents, especially children, took keen interest in the historic and cultural models. A woman, who had brought her children to see the display, lauded Pakistan Railways for operating such a train and told The Express Tribune that the project is a good way of educating children about the rich and diverse culture of Pakistan. "Today our country is subjected to different challenges, including terrorism, and at this juncture this Azadi Train is good to boost our morale," she said.

Most people took many pictures with the models in order to preserve the moment. The residents of Pakistan Sweet Home orphanage also visited the Azadi Train.

Strict security measures were adopted at the railway station to avoid any untoward incidents and the police checked people before allowing them to board the train.

On Friday night the train left for its next destination, Quetta, with stopovers in Shikarpur, Jacobabad, Dera Murad Jamali, Bakhtiarabad and other railway stations. According to the divisional superintendent of Pakistan Railways, Sukkur, after Quetta the train once again will come back to Sukkur and then move on to Karachi. Leader of the opposition in the National Assembly, Khursheed Ahmed Shah also paid a visit to the train on Friday night.

Published in The Express Tribune, August 28th, 2016.
COMMENTS
Comments are moderated and generally will be posted if they are on-topic and not abusive.
For more information, please see our Comments FAQ