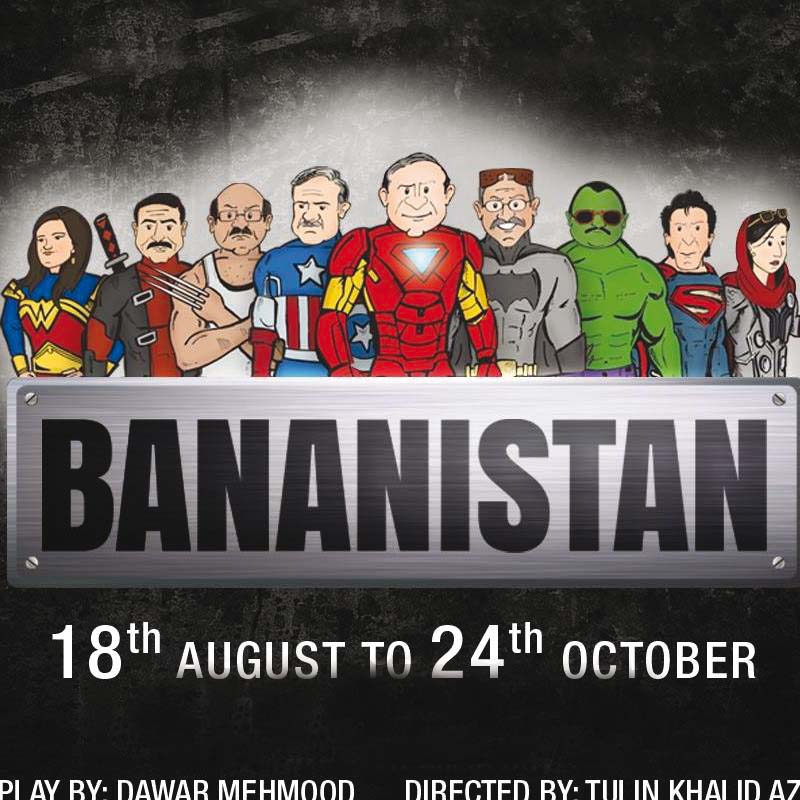 ---
KARACHI: The year is 2030. There exists a country called Bananistan which is eerily similar to Pakistan in its state of affairs, people and their mannerisms. But mind you, it is not Pakistan.

With successes like Siachen, Pawney 14 August and Sawa 14 August under their belt, KopyKats Productions' latest play Bananistan, currently running at Karachi Arts Council, depicts a dystopian society where all forms of entertainment are banned, except theatre. A new play is in the works and politicians, who have nothing else to do in times of martial law, audition for it.

The play-within-a-play, titled Mere Sultan Ka Fatima Gul Se Ishq e Mamnoon, is a clichéd love story and nothing more. However, it is one that brings up a ton of comedic situations for the creators to explore. So much so that, perhaps to involve all the jokes they could think of, they dragged the play on for two-hours.

At first glance, Bananistan looks like a knock-off of outdated Umar Sharif stage shows. However, credit must be given where due. The cast gets a solid 10/10 for giving everything it had. For two hours, the actors deliver punchline after punchline and play the characters so well that it's hard to come out of their world.

Although Dawar Mehmood, who plays Imran Khan, Shafqat Khan (Qaim Ali Shah) and Taha (Nawaz Sharif) do a wonderful impersonation of the politicos, it is Mustafa Chaudhry who steals the show as Maulana Fazlur Rehman. From his gruffly voice to his joggers-over-shalwar kameez, his character was creatively explored. Like us, if you thought mimicry was the lowest common denominator of entertainment, Chaudhry will change your mind with his over-the-top, unbound, crazy behaviour.

On the contrary, Saqib Sumeer (Altaf Hussain) and Hammad Siddiq (Asif Ali Zardari) actually make you want to punch them in the face.

The writing, which has both Chaudhry and Mehmood as contributors, mounts joke after joke, compromising the flow of narrative. At one point, you lose track of where the story is headed and it definitely feels like an Umar Sharif stage show with somewhat better aesthetics. However, some very clever jokes leave you with gut-wrenching laughter.

Tulin Khalid Azim's direction does get the most out of the cast but still lacks overall finesse.

At one point in the play, the actors sing Mumkin Hai, Mumkin Hai and you actually think it's possible that our politicians can co-exist for a larger purpose and society can get better. By the end, you once again return to reality.

On the whole, Bananistan does make you laugh uncontrollably until you no longer can.

Published in The Express Tribune, August 27th, 2016.

Like Life & Style on Facebook, follow @ETLifeandStyle on Twitter for the latest in fashion, gossip and entertainment.