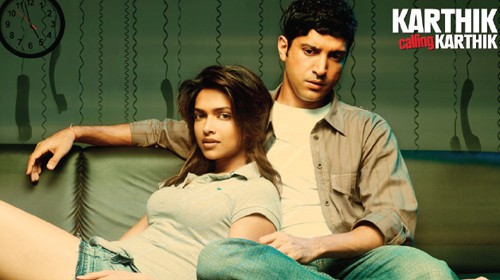 ---
With an intriguing plot involving a man's life changing through a series of phone calls that he receives from himself, the viewer can do precious little to prevent being drawn into Karthik calling Karthik. KCK is yet another big debut from Bollywood, from a wave of new directors who appear to be bursting with new and innovative ideas. In this respect, Vijay Lalwani has done a great job of building a relationship with his viewers, especially targeting the urban youth. It's the same sort of demographic with whom the film Wake Up Sid, itself a debut, enjoyed a rapport. While clumsily made, people took notice of Sid as a new, distinctly modern on-screen persona was being formed through it.

This movie, as the title suggests, revolves around Karthik; submissive, and timid, at a great distance from macho. He is constantly insulted by his boss, and manipulated by his landlord, and generally suffers the slings and arrows of outrageous fortune. Reaching his limit with the decision to end his miserable existence, Karthik receives a phone call from the most unexpected caller: himself. Sadly, the boldness of this plot maneouvre, while bracing to begin with, cannot sustain itself over the duration of the film, a trait which is becoming something of a pattern for new, experimental Indian filmmakers. Not wishing to give away the ending of this thriller, one can say with some confidence that the average viewer paying even the scantest attention would be able to see it a mile away.

But do not judge it by its one misstep, disappointing conclusion aside, this is a vastly entertaining film. The depiction of modern life works, Karthik's reticence works as does his romance, all underscored with a more serious underlying theme.

Actor/director and all round wunderkind Farhan Akhtar has brought home a very enjoyable performance. It may not be remembered for spectacular dialogue or overblown action, but it's the subtleties that are so much more important. The transformation in his character as the film progresses is both nuanced and credible.

The female lead, Deepika Padukone, is perfectly cast in her role. A cheerful, independent and distractingly good looking woman, who is emotionally vulnerable at times, this is a role she's perfectly comfortable with having already played it on numerous occasions, including in Bachna Aay Haseenon and Love Aaj Kal. You can tell it's a breeze for her, though note to Padukone: branch out while you still can. The romance between the two characters is not shown through intensity of its sensual characteristics but rather through the simplicity and joyful outlook of the relationship, which rather suits it.

Overall, the movie is fresh, bold and energetic, and lovingly shot with a cool palette of blues and greys. The director may have stumbled right at the end, but having enjoyed the journey so much, we can forgive him.