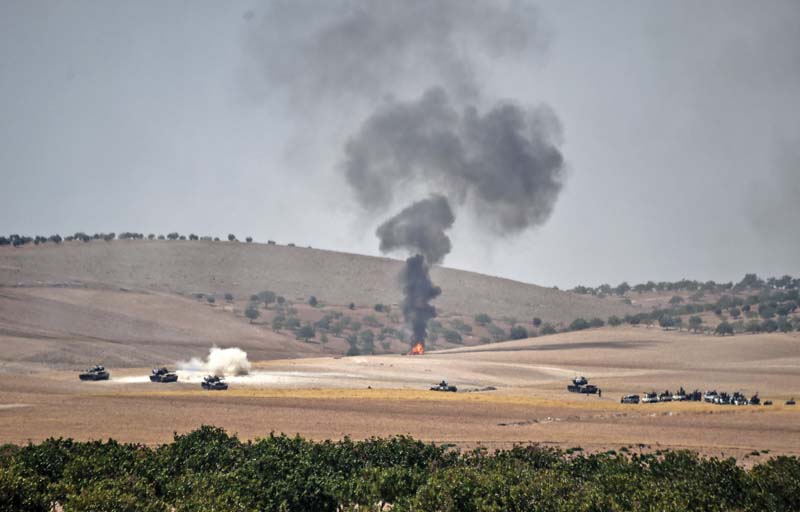 ---
ANKARA/ISTANBUL: Syrian rebels backed by Turkish special forces, tanks and warplanes entered one of Islamic State's (IS) last strongholds on the Turkish-Syrian border on Wednesday, in Turkey's first major US-backed incursion into its southern neighbour.

A column of at least nine Turkish tanks crossed into Syria with the group of largely Arab and Turkmen rebels to drive IS out of Jarablus and surrounding villages. The offensive, dubbed 'Euphrates Shield', is Turkey's first major military operation since a failed July 15 coup shook confidence in its ability to step up the fight against IS.

President Tayyip Erdogan said the operation was targeting both IS and the Kurdish PYD party, whose gains in northern Syria have alarmed Turkey. Ankara views the PYD as an extension of Kurdish militants fighting an insurgency on its own soil, putting it at odds with Washington, which sees the group as an ally in the fight against IS.

"This morning at 4am (0100 GMT) an operation started in northern Syria against terror groups which constantly threaten our country, like Da'ish (IS) and the PYD," Erdogan said in a speech in Ankara.

US Vice President Joe Biden, who arrived in Turkey on a pre-planned trip hours after the operation began, tried to soothe Turkish concerns about Kurdish territorial gains in Syria. Biden said Washington had made clear to Kurdish militia fighters that they should return east of the Euphrates river again - a red line for Turkey - after helping to capture the city of Manbij south of Jarablus from IS this month.

Syria's foreign ministry condemned what it said was a breach of its sovereignty and accused Ankara of launching the incursion to replace IS with 'other terrorist groups'. Russia, which backs Syrian President Bashar al Assad, said it was deeply worried by the escalation of tension after Turkey's move.

A rebel commander with the Failaq al Sham group said most of the IS had pulled out, some of them surrendering. A second rebel commander estimated up to 50% of the town was now under control of the Turkish-backed rebels. A Turkish official, meanwhile, said the country's forces will continue operations until imminent threats to its national security are neutralised.

Published in The Express Tribune, August 25th, 2016.