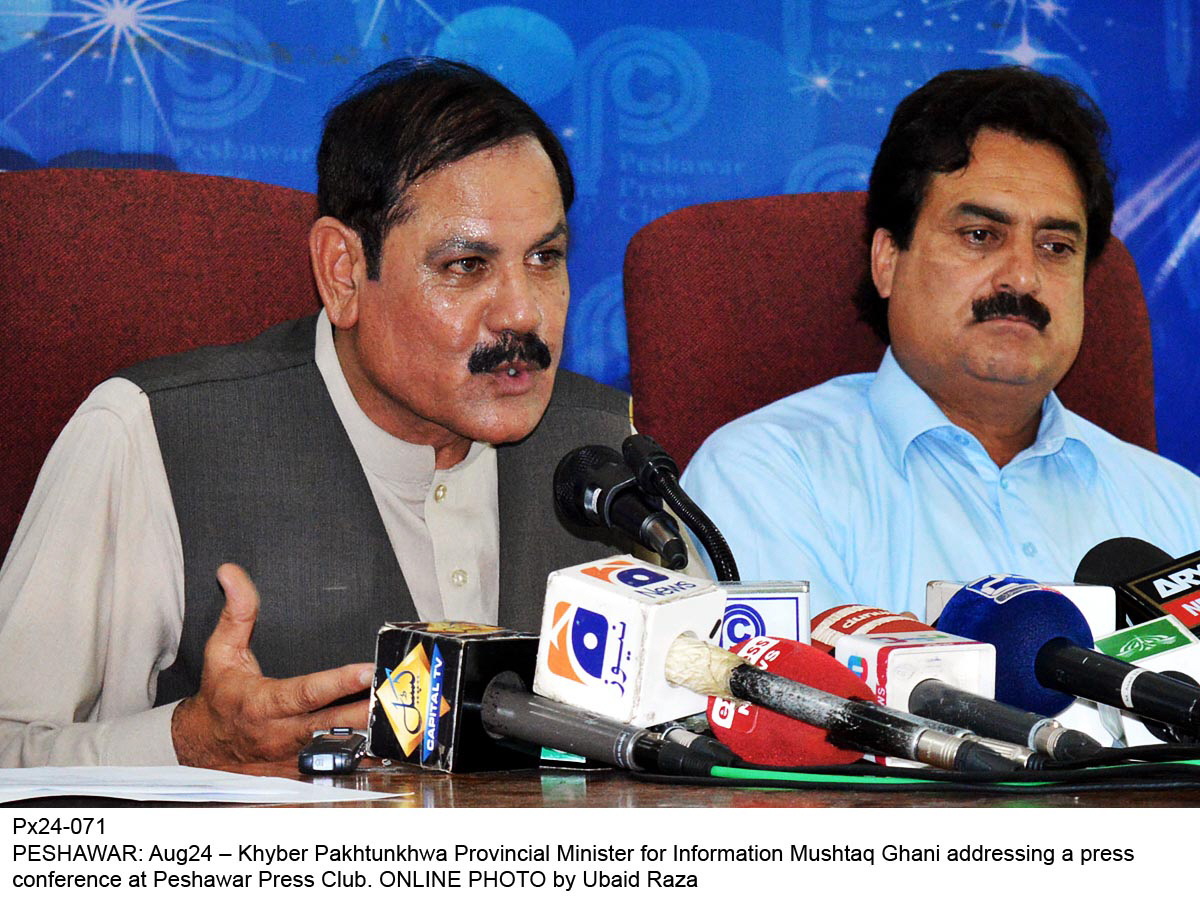 ---
PESHAWAR: The provincial government is all set to fight a legal battle against the membership of the alleged murderer of former Pakistan Tehreek-e-Insaf (PTI) cabinet member Sardar Soran Singh in the Khyber-Pakhtunkhwa Assembly. This was said by Adviser to Chief Minister on Information and Public Relations Mushtaq Ghani.

"The assembly members, including opposition benchers, have decided that Soran's [alleged] murderer, Baldev Kumar, cannot be allowed to enter the assembly premises and nor will he be permitted to take oath as an MPA," Ghani told the media during a news conference at Peshawar Press Club on Wednesday. Ironically, Baldev is next in line to inherit the seat which was vacated after the murder of Soran Singh.

He said the provincial government approached the election commission as evidence suggested Kumar orchestrated the murder of Soran.

The adviser added the election commission provided no relief to the provincial government. He categorically stated the provincial government would fight a legal battle.

The special assistant on minority affairs, Sardar Soran Singh, was shot dead in Buner on April 22. He was killed when gunmen on two motorbikes ambushed his vehicle and sprayed the victim with bullets, killing him on the spot.

On April 25, police claimed to have arrested six suspects, including PTI minority leader Baldev Kumar, for masterminding the assassination.

Swat Motorway

Meanwhile, Ghani termed the Swat motorway as a game changer for the province. The project, to be completed in 18 months at a cost Rs41billion, will be inaugurated on Thursday (today).

The CM's adviser said PTI's political rivals were pointing out that the government failed to launch any mega projects.

He said the PTI-led government was focusing on education and health since the priority was to make sure schools and hospitals had maximum facilities to benefit the general public.

"I think providing furniture to some 21,000 school children, expanding a primary school from two rooms to six and providing teaching staff is a mega project for PTI. At the same time, the Swat Motorway will change the destiny of the province," Ghani said.

He added the project would also consist of two tunnels.

CM's Adviser on Communication and Works Akbar Ayub said it took some six months to finalise the project, which was tendered to the Frontier Works Organization (FWO) following a bidding process. He added it would pass through six districts and reiterated Ghani's claims of it changing the destiny of people.

He stated the motorway, starting from Colonel Sher Khan Interchange, will connect to Chakdara and the travel time, which was three hours, will be shortened to a mere 50 minutes. He believed the project was also vital to boost the tourism industry.

Published in The Express Tribune, August 25th, 2016.