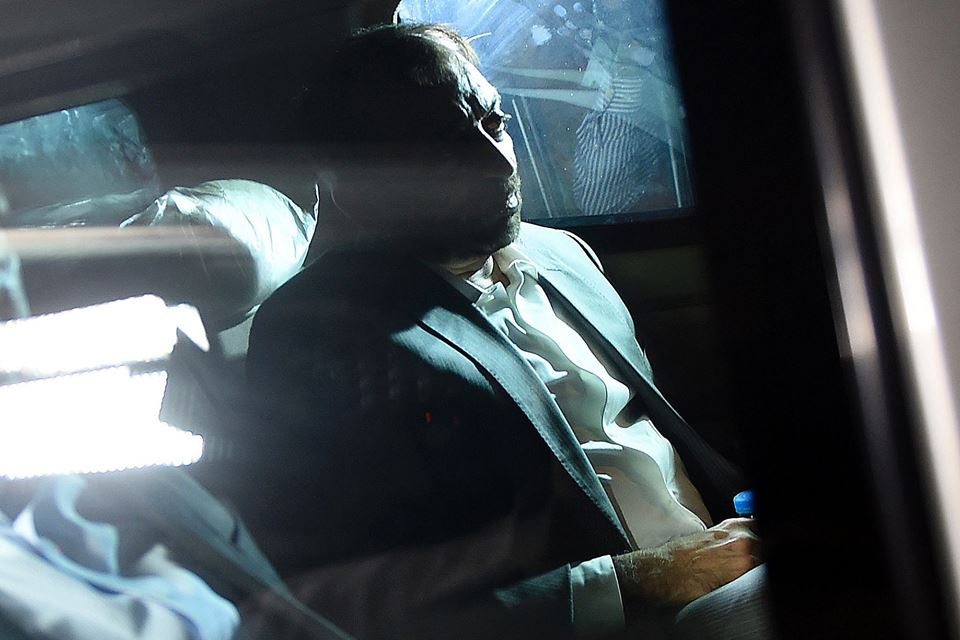 ---
KARACHI: Activists of the Muttahida Qaumi Movement (MQM) ransacked a private television station before clashing with police Monday evening, leaving at least one person dead and over half a dozen injured. The rioting drew widespread condemnation from all political parties and prompted action by the paramilitary Rangers. At least nine MQM leaders, including Dr Farooq Sattar, were detained while the party's headquarters, Nine Zero, were also searched and subsequently sealed.

Altaf Hussain incited MQM members to attack media offices: Mustafa Kamal

The violence erupted soon after MQM chief Altaf Hussain gave a telephone address to his supporters in which he castigated the media for not giving due coverage of his workers and allegedly raised anti-Pakistan slogans.

MQM activists, who had just ended a week-long hunger strike outside the Karachi Press Club (KPC) over a government crackdown against them, stormed the ARY News offices after their party leader's address from London.

Television footage showed dozens of men and women barging into ARY's office, smashing doors, windows and equipment with rods and batons and setting fire to several vehicles. Footage also showed shards littering the floor and TV screens ripped off the walls and flung on to the ground.

"MQM workers fired at the ARY offices and ransacked the premises," said SSP Saqib Ismail Memon said, adding that they had been "incited by their leader". "We have carried out teargas shelling to disperse the mob," he added.

Staffers of Neo TV station, whose offices are located in the same building as ARY, were also beaten up. Reportedly, protesters also surrounded the offices of Samaa TV which are located on the nearby II Chundrigar Road.


Flames rise from a police van burnt by MQM protesters. PHOTO: MOHAMMAD AZEEM/EXPRESS

On the streets, MQM activists also clashed with police who tried to stop them, sparking volleys of gunshots and tear gas in several places across the city, police and witnesses said. At least three police officers were beaten up by protesters or were pelted with stones.

Rioters proceeded to set fire to several vehicles, including a police van, and at least two motorcycles. Several other vehicles were also damaged when protesters threw stones at passing cars.

Fourth day: MQM's hunger strike continues

Around a dozen injured were driven to the Jinnah Postgraduate Medical Centre. Medics said Arif Saeed, a 45-year-old man associated with MQM's Korangi Sector, succumbed to his injuries during treatment.

Others who were brought in for treatment included Saddar DSP Kanwar Asif, Saddar SHO Pir Shabbir, Constable Qamaruz Zaman and Neo TV cameraman Rehan Noor. "The injured did not have any gunshot injuries," a medic said.

DG Rangers Maj Gen Bilal Akbar, who visited the ARY offices, said nobody would be allowed to disturb law and order in the city. "We will arrest those who incited this violence. Those who took the law into their own hands will be taken to task," he said while flanked by Sindh Chief Minister Murad Ali Shah.

Shah, who later hosted a high-level law and order meeting, said no one would be allowed to raise anti-Pakistan slogans or hold the citizens of Karachi hostage.

Earlier Chief of Army Staff General Raheel Sharif, while taking the notice of the situation, called the DG Rangers and asked him to arrest those involved and restore peace in the city.




MQM leaders detained

After the rioting, the Rangers detained at least nine senior leaders of the party including MNA Farooq Sattar, MPA Khawaja Izharul Hassan, MPA Sajid Ahmed, Amir Khan, Dr Amir Liaquat Hussain, Waseem Ahmed, Qamar Mansoor, Kanwar Naveed and Shahid Pasha.

Feeling threatened: MNA Waseem Hussain fears for his life

Sattar and Hassan were taken away by the Rangers from outside the Karachi Press Club where they wanted to address a news conference. Hassan, though, was reportedly released later.

Shortly after their rioting, MQM member Irum Azeem Farooqui tweeted that she had resigned from the party in protest.

Nine-Zero surrounded

Later in the evening, the Rangers launched operations in several parts of the city against the MQM.

A large contingent of paramilitary troops surrounded MQM's headquarters at Nine-Zero in Azizabad in addition to several party offices in different parts of the city.

They thoroughly searched Nine-Zero, including the Khursheed Memorial Hall, and subsequently sealed the premises.

MQM offices in in different parts of the city and the province were shut down while around 50 workers were detained in overnight raids.

Widespread condemnation

Prime Minister Nawaz Sharif strongly condemned the attack on offices of TV stations, saying every word uttered against the state would be made accountable.

"Pakistan is our home and we know how to protect its sanctity. We can neither hear any word against Pakistan, nor we can forgive the one who speaks against Pakistan," he said in a statement issued by his office.

"The anti-Pakistan statements in Karachi have hurt the heart and feelings of mine as well as every Pakistani," he said. "It is an attack on freedom of press and freedom of expression."

MQM stages hunger strike against 'political' operation, enforced disappearances

The premier directed the authorities at the federal and provincial levels to bring the culprits to task immediately and sought a report on the incident.

Interior Minister Chaudhry Nisar Ali Khan said attacks on journalists and news channels were not acceptable.

Meanwhile, former president and PPP co-chairman Asif Ali Zardari also strongly condemned the attack on media houses. He directed the Sindh chief minister to take concrete steps to ensure security of media houses and journalists. He further directed the CM to take action against the culprits.

Some members of the MQM also distanced themselves from Monday's violence with the party's MNA Ali Raza Abidi saying that the incident was condemnable and urged workers to "disassociate yourself from violent mobs sent for a purpose."

MQM MNA Rashid Godil also condemned anti-Pakistan slogans raised at the Karachi Press Club. "I believe one and only Pakistan comes first. Nothing else," he wrote on popular micro-blogging site Twitter.

Published in The Express Tribune, August 23rd, 2016.