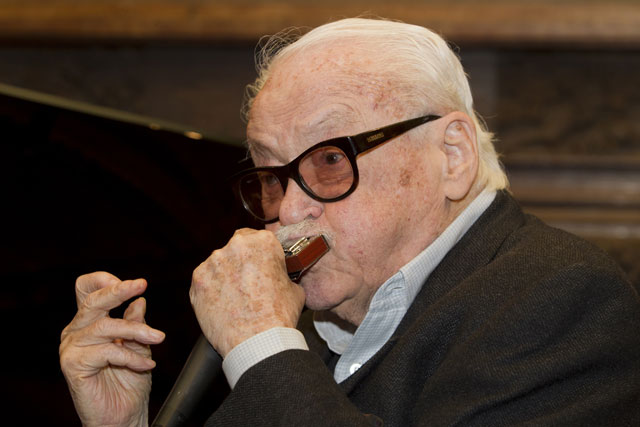 ---
BRUSSELS: Belgian legend "Toots" Thielemans has died after a 70-year career as the world's most famous harmonica player during which he made music with some of the biggest names in jazz.

Jean-Baptiste Frederic Isidore Thielemans, known affectionately as "Toots", died in his sleep in a Brussels hospital early on Monday, his manager Veerle Van de Poel said. He was 94.

"It comes as a bit of a shock and surprise as he was doing very well after suffering a fall last month," Van de Poel told AFP.

Born in 1922 in the working class Marolles district of Brussels, Thielemans got his big break when he joined Benny Goodman on a European tour in 1950 before moving to the United States where he teamed up with other jazz greats, including Charlie Parker, Ella Fitzgerald and Frank Sinatra.

He took up the harmonica as a hobby and then during World War II, as described on his official website, he became hooked on jazz.

Israeli jazz taking giant steps as talent returns home

The nickname followed, taken from US musician Toots Mondello, a swing jazz saxophonist, and Toots Camarata, a trumpet player, composer and arranger.

"He brought a rather banal instrument intended for campsites to almost sacred heights," said jazz historian Marc Danval.

Gypsy-jazz great Django Reinhardt and Ray Ventura were major inspirations. A chronic asthma condition also influenced his unique style of play.

Buoyed by the commercial success of his now standard "Bluesette" in 1962, he played harmonica on the soundtrack for the hit Dustin Hoffman and Jon Voight film "Midnight Cowboy" in 1969 and many others.

Thielemans also accompanied non-jazz artists such as Paul Simon, Billy Joel, Stevie Wonder and Nick Cave. He also played the closing theme on the popular children's TV programme Sesame Street.

In 2001, Belgian King Albert II made him a baron, sealing his status as one of the country's best-known figures on a par with Tour de France great Eddy Merckx.

In recent years, Thielemans had to cope with failing health but he refused to let this put him off and in 2012 he played a concert in Brussels to mark his 90th birthday before setting out on a world tour.

However, age and poor health caught up with Toots, and he gave up touring in 2014.

Windmills of the mind: Sting's brain scanned for music study

"We have lost a great musician, a heart-warming personality. All my thoughts are with the family and friends of Toots Thielemans," Belgian Prime Minister Charles Michel said in a tweet.

For musician and producer Quincy Jones, who famously took Michael Jackson's career to new heights with "Thriller", Toots was one of the all-time greats.

"I can say without hesitation that Toots is one of the greatest musicians of our time," Jones is quoted as saying on Thieleman's website.

A jazz festival held in his name was due to take place next month in the Belgian town of La Hulpe where Thielemans resided.