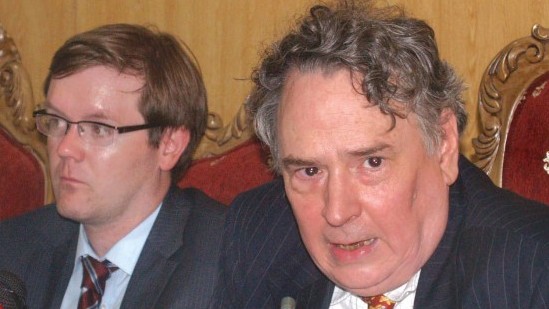 ---
ISLAMABAD: Germany's Ambassador in Islamabad Dr Michael Koch has said that militancy cannot be eliminated from Pakistan without bringing stability in Afghanistan.

"Obviously, Pakistan and Afghanistan are two different countries, but to some extent they are part of the same battlefield," said Koch at the National Press Club. He added that Germany might not have an out-of-the-box solution for the Afghan conflict but Berlin was committed to working with the international community for stabilising the war-torn country.

Koch admitted that the policy of reconciliation with the Taliban and a troop buildup in Afghanistan appeared contradictory. But, he added, the troop buildup would provide the US-led coalition with more options to discuss a political solution to the problem. Koch said Germany would like to enhance trade access for Pakistan but was hindered by European regulations that put a limit to Generalised System of Preferential-plus.

The German ambassador said that the volume of Pakistan's exports stood at 1.5 per cent of the total EU trade, besides other European countries wanted to export the goods Pakistan intended to export to Germany. Koch said Germany and Pakistan have signed two agreements to introduce wind and solar energy in Pakistan to meet its growing energy needs.

Asked if there was a need to have the 9/11 attacks investigated by a UN commission, the ambassador said he did see a need for such a probe. "It is difficult for me to say more on the subject," he added. Koch said Germany did not believe in mediation between India and Pakistan. "The two countries need to continue their bilateral talks to resolve all outstanding issues, including Kashmir," he added.