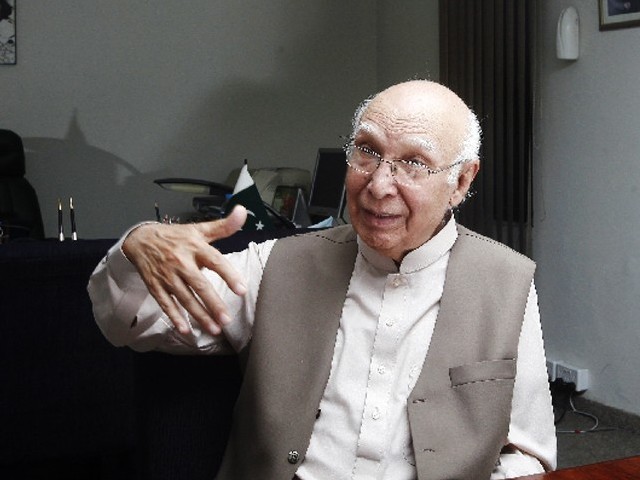 ---
ISLAMABAD: Prime Minister's Adviser on Foreign Affairs Sartaj Aziz said on Friday that Pakistan will invite India for dialogue on Kashmir dispute in the wake of current unrest in the valley.

Speaking at a news conference in Islamabad, Aziz said Foreign Secretary Aizaz Chaudhry would soon write a letter to his Indian counterpart seeking dialogue on Kashmir.

Massive protests erupted in held Kashmir after the killing of a popular Kashmiri separatist leader Burhan Wani, followed by deaths of at least 60 protesters at the hands of Indian forces.

According to the adviser, Pakistani envoys had recommended in a conference held on August 1 that the country invite India for talks on the situation in Kashmir.

The conference discussed a number of diplomatic initiatives and one of them was to offer India dialogue on Kashmir if it was not ready to resume the structured talks, Aziz elaborated.

Earlier during the day, India's prime minister accused Pakistan of fomenting trouble in the Kashmir valley, claiming there was enough evidence to prove it was fuelling unrest in the region.

Kashmir cause cannot be suppressed through violence, Nisar tells India

Responding to the allegations, Interior Minister Chaudhry Nisar Ali Khan said that the struggle of Kashmiris could not be suppressed through violent tactics, neither it is acceptable for Pakistani people.

Composite dialogue

The composite dialogue is currently suspended due to Indian reluctance to resume, following the attack on Pathankot airbase near the border with Pakistan in January.

Recently, Indian Home Minister Rajnath Singh visited the country for the regional conference but avoided a bilateral engagement.

The adviser noted that Indian policy of not engaging in a comprehensive dialogue with Pakistan was not conducive for peace in South Asia.

India has mounted unconventional war on Pakistan, says Lt-Gen Aamer

Nuclear pact

The adviser highlighted Pakistan's proposal to India to sign a bilateral pact that would seek to impose ban on further testing of nuclear weapons by either side.

"We voted for the treaty when it was adopted by the UN General Assembly in 1996. We have declared a unilateral moratorium on further testing," Aziz said.

Aziz went on to add that Pakistan was ready to consider translating its unilateral moratorium into a bilateral arrangement on non-testing with India.

However, in spite of these initiatives, Indian and Afghan intelligence agencies working in collusion to create unrest in Pakistan, the adviser lamented.

"There are indications of a splinter group of TTP's [Tehreek-e-Taliban Pakistan] involvement in Quetta attack."

"The Afghan National Directorate of Security (NDS) is known to be indirectly supporting such groups and there is also collaboration between NDS and Indian intelligence agency RAW," Aziz pointed out.

Nonetheless, the adviser emphasised the need for understanding between Pakistan and Afghanistan for closer coordination between the Inter-Services Intelligence (ISI) and NDS.

Nuclear Suppliers Group

Aziz said that on Pakistan's aspiration to become member of the nuclear trading nations, Pakistan would formally invite the Nuclear Suppliers Group (NSG) troika to visit the country for a detailed briefing on "our credentials."

"We welcome any opportunity to engage bilaterally with interested NSG countries for a detailed presentation on the merits of our application," the adviser added.
COMMENTS (12)
Comments are moderated and generally will be posted if they are on-topic and not abusive.
For more information, please see our Comments FAQ