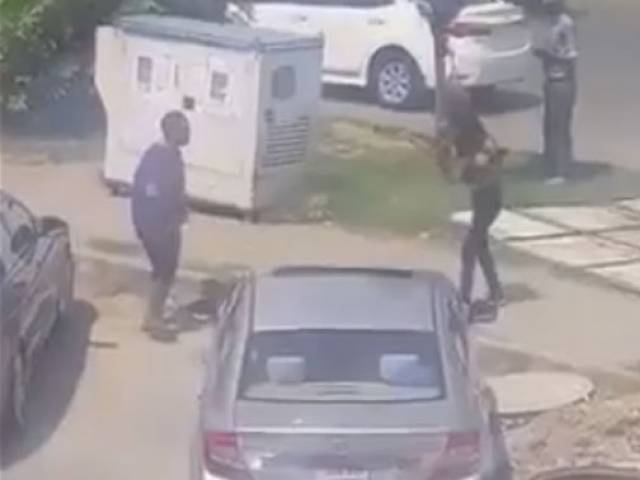 ---
ISLAMABAD: The Police have arrested a transgender woman for allegedly blackmailing a businessman by accusing him of sexual assault and later stealing his car with the help of her accomplices.

The Shalimar police arrested Shahryar alias Sehrish after CCTV and mobile footage showing her undressing in an ATM booth and chasing the man around F-10 Markaz went viral on social media. CCTV footage from inside the ATM booth shows Sehrish taking off her shirt and pushing the man before following him to his parked car while still topless. She is seen throwing stones at the man's Mercedes and him trying to stop her.

"Please just leave me alone … I don't even know you," the man is heard saying in the video. The incident took place on August 6.

While the suspect was stoning the car, a man approached and offered to move his car away from where the argument was occurring to prevent further damage. The flustered businessman handed him the keys.

Within minutes, the car and the suspect were gone. The victim, later identified as Ahsan Malik, lodged a complaint with Shalimar police.

Malik told the police that as he was parking his car outside the bank, a trans woman tried to get in the car while asking him for money. In the FIR, Malik says she said, "I will make a ruckus if you didn't give me money."

Malik stated in his application that the suspect later took off her shirt and tried to damage his car when still he refused to give her any money. He suspected that the trans woman and the man who took his car were working together.

The police registered a fraud case and began investigating.

ASI Farrukh Habib told The Express Tribune that the car was recovered from Maira Jaffar Chowk on August 8. He said Sehrish and two men, Shakeeb and Javed, have been arrested and sent to jail.

A police official said that Malik had given a lift to Sehrish from Shaheen Chowk on Margalla Road and that she was already in the car when he arrived at the ATM. The investigation officer, however, denied this and said that Safe City Project cameras clearly showed Malik was alone in the car while on Margalla Road.

Shalimar SHO Inspector Zulfiqar also said that it was a planned effort to blackmail and loot the businessman.

Published in The Express Tribune, August 12th, 2016.