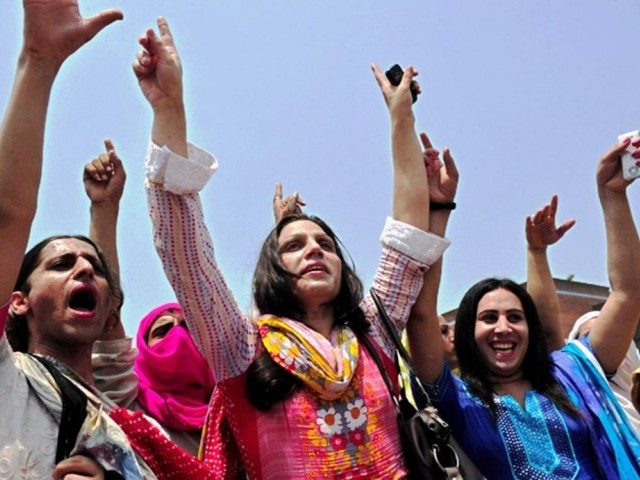 ---
PESHAWAR: Social activists and members of TransAction Alliance organised a vigil at Lady Reading Hospital on Thursday evening. The event was held to raise concerns about discrimination against patients at the facility on the basis of gender and identity.

In May, transgender activist Alesha was brought to LRH after she was shot multiple times. She was not provided urgent care as LRH authorities they kept her waiting for over an hour while deciding whether to shift her to the male or female ward. As a result, the transgender activist succumbed to her injuries.

The participants lit candles and condemned the behaviour of LRH staff towards people who are transgender. They said Dr Shahabuddin and hospital director Hamid – who have been blamed for Alesha's murder – are still in office while some other doctors were terminated in relation to the case. The participants demanded the resignation of the LRH chairperson.

Gender discrimination

Farzana, the president of the alliance, said gender discrimination is a common civil rights violation that takes many forms.

"The LRH administration must know that access to basic health care is a right, not a privilege," he added.

Taimur Kamal, a social activist, said, "Civil society stands with transgender activists and will play its role in providing equal access to quality health care for the transgender community."

Qamar Naseem, another rights activist said, "Everyone has the right to the highest attainable standards of physical and mental health. This includes access to medical services, sanitation, adequate food, decent housing, healthy working conditions, and a clean environment."

He added, "The government and its departments have failed to ensure the rights of the transgender community."

Audit

Zar Ali Khan, a rights activist, said, "We demand a medical and administrative audit of LRH. The administration is running the hospital as its private property. Many people who are transgender are denied health care because of their identity."

Published in The Express Tribune, August 6th, 2016.