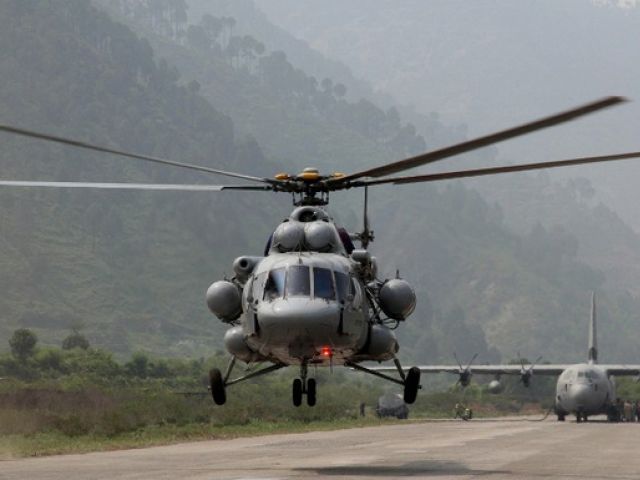 ---
ISLAMABAD/ PULI ALAM, AFGHANISTAN: A Pakistani helicopter heading to Russia for overhaul crash-landed in eastern Afghanistan on Thursday, officials said. Reports suggested that six people on board are feared to be abducted.

Following the crash, Army Chief General Raheel Sharif called the commander of US troops in Afghanistan and asked him to help recover the crew. The Afghan government and Afghan National Army have also been contacted in this regard.

Punjab govt helicopter crashes in Afghanistan, occupants held by Taliban

The Mi-17 transport helicopter crashed in Azra district, in the restive province of Logar, then caught fire, said the provincial governor's spokesperson Salim Saleh. He added that no one was hurt in the crash.

However, some residents in the area said it was the Taliban who set the chopper on fire after it crashed and took the aircraft's occupants hostage.

The Pakistani military and North Atlantic Treaty Organisation's (NATO) Resolute Support Mission initially denied Afghan government and media claims that the helicopter belonged to them. "The helicopter is not of the Pakistan army," a military official had told The Express Tribune.

The Resolute Support Mission said the helicopter "does not appear to be NATO aircraft."

It wasn't till later in the evening that the Pakistan embassy in Kabul and the Ministry of Foreign Affairs in Islamabad confirmed that the aircraft belonged to Pakistan.

"An Mi-17 transport helicopter belonging to the Punjab government was scheduled to fly to Russia for repairs. We think the same chopper crash-landed in Logar," Akhtar Munir, a spokesperson for the Pakistan Embassy in Kabul, told AFP.

"We don't know anything about the fate of those on-board or why it crash-landed."

Pakistan joins quadrilateral group to counter terrorism

Foreign Office spokesperson Nafees Zakariya in Islamabad also confirmed that the Punjab Government helicopter was on its way to Russia via Uzbekistan for repair and maintenance. It was not clear why the helicopter took the specific route to fly to Uzbekistan. The Afghan Taliban said they did not have any information about the incident.

Earlier, local district governor Hamidullah Hamid had said six people on board had been taken hostage by the Taliban and transported to an unknown location.

Army chief asks for help

Hours after the helicopter crashed, Army chief General Raheel Sharif called RSM commander General John Nicholson.

"COAS called Gen Nicholson, Commander RSM in Afghanistan, asked him to help in recovery of crew of Punjab government helicopter that crash-landed in Logar province," tweeted DG ISPR Lt Gen Asim Saleem Bajwa. "Gen Nicholson assured [Gen Raheel] of all possible help in this regard."

Lt Gen Bajwa added that the Afghan government and ANA authorities have also been contacted for their assistance in recovering the crew members.


#COAS called Gen Nicolson,Comd RSM in Afgn,asked him to help in recovery of crew of Punjab govt heli that crash landed in logar province-1/3

— Gen(R) Asim Saleem Bajwa (@AsimBajwaISPR) August 4, 2016
while on its way to Russia via Uzbekistan.Heli was going to Russia for maintenance.Gen Nicolson assured all possible help in this regard-2

— Gen(R) Asim Saleem Bajwa (@AsimBajwaISPR) August 4, 2016
Afghan govt and ANA authorities have also been contacted for necessary assistance in recovery of the crew members-3

— Gen(R) Asim Saleem Bajwa (@AsimBajwaISPR) August 4, 2016


The crew included five retired Pakistani military officials and one Russian technician.

Shahbaz Sharif meets family of missing crew members

Punjab Chief Minister Shahbaz Sharif on Friday visited families of the missing crew members to offer condolence, Express News reported.

CM Shahbaz assured the family members that rescue operations are underway for the safe recovery of all crew members.
COMMENTS (18)
Comments are moderated and generally will be posted if they are on-topic and not abusive.
For more information, please see our Comments FAQ