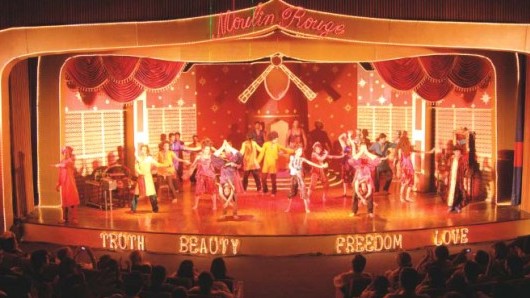 ---
KARACHI: Moulin Rouge caused a sensation when it was released as a film starring Nicole Kidman and Ewan McGregor, and that same magic has been brought to Karachi by Shah Sharabeel as a musical.

The musical is being staged at the Arts Council in Karachi, with the last show scheduled for May 9. The plot revolves around an English writer-poet called Christian who moves to Paris in the summer of 1899. In the city he meets Toulouse Lautrec who convinces Christian to produce his new play for audiences and takes Christian to meet with Satine (a courtesan at the Moulin Rouge) to convince her to take part in the play.

On the same night Satine is meeting the Duke, to convince him to invest in the Moulin Rouge which is in dire need of funds. In a twist of fate Satine mistakes Christian for the Duke and the two fall in love. But Satine and Christian must keep their romance a secret from the Duke who has agreed to invest in the Moulin Rouge on the condition that Satine will be with no other man but him.

However, the powerful love between Satine and Christian cannot remain a secret for long and when the Duke finds out he gives Satine an ultimatum: she must leave Christian or he will have Christian killed. . The performance in Karachi was enacted by young actors aged 15 to 25 but one could have never have known this based on their performances.

Many of the actors were exceptional and delivered intense performances. Satine (played by Joyanne Geary) was a pleasure to watch; she portrayed the seductive courtesan well and danced gracefully and enthusiastically. Hamza Ali Abbasi played the role of Phantom of the Opera in Islamabad and showed that he was a solid actor in Moulin Rouge. Abbasi was definitely one of the best performers in the play and showed immense diversity as an actor.

When asked about the different roles he has played he said, "Christian is a good guy and romantic person. The Phantom, I believe was a dark character who acted as a demi-god." Abdul Aleem Shekhani managed to give Harold Zidler personality and impressed the audience with his clear voice and the sentiment he conveyed. The 15-year-old Ahmed Majeed was equally notable as Lautrec, has a very expressive voice and is a passionate performer.

Another memorable performance came from Gohar Rasheed as the Duke. Rasheed's expressions were inspired and he managed to be comical and irritating at the same time. Javed Saeedi as the Argentine and Sanam Saigol as Marie performed well too. The costumes were vibrant and effective and were done by Aamyre Tarique.

Dances were the play's strong point and were choreographed by Breakhna Yousaf and Zarmeena Yousaf. Although the sound was so loud it was a bit overwhelming, it did not take away from the overall experience of watching Moulin Rouge.
COMMENTS (2)
Comments are moderated and generally will be posted if they are on-topic and not abusive.
For more information, please see our Comments FAQ