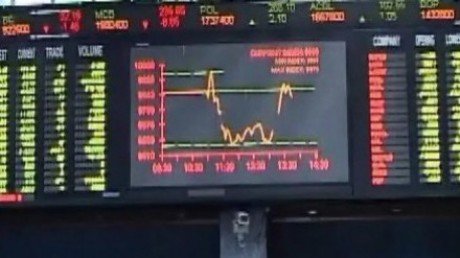 ---
KARACHI: Pakistani stocks ended almost flat on Thursday because of the Greek debt crisis, according to brokers.

The market failed to sustain its rise as investors chose to book profits at higher levels. The Karachi Stock Exchange's benchmark 100- share index, the KSE-100, fell 0.08 per cent or 8.62 points to end at 10,553.12. Volumes were sluggish and stood at 153.59 million shares. Activity shifted back to 2nd and 3rd tier stocks, which dominated the volume leaders.

"The market took its cue from the regional markets on escalated fears about Greece's debt situation," said a broker at Arif Habib Ltd, Sajid Bhanji. Investors are preparing exit strategies as they fear that the Greek debt crisis is gaining momentum. Yesterday's net foreign inflows of $11.5 million and a 0.13 per cent decline in T-bill cut off yields provided an early positive impetus. World stock share prices fell and the euro came under renewed pressure on Thursday.

Dealers said the market was likely to consolidate around its current levels unless there was some positive news. The local bourse witnessed a range-bound session on Thursday, closing in the negative zone after shedding early morning gains. Stocks had ended higher on Wednesday because of increased foreign buying, particularly in the energy sector, dealers said. "Yesterday, the KSE-100 ended higher after a week of the trend line falling on the back of buying interest in the index heavyweight OGDC," said BMA Capital Analyst, Nurali Barkatali.

He added that the test lay ahead as penetration through the supply glut area between 10,630 to 10,730 would require support from other stocks in the index. "Activity at local bourse remained under pressure as tumbling Asian markets undermined investors' sentiments. Small and medium cap stocks dominated the volumes," said Topline Securities analyst, Farhan Seth.

During the day, 234 stocks closed higher, 183 stocks declined and 27 stocks remained unchanged in value. Lotte Pakistan's (KSE: LOTPTA) share price increased and was the volume leader with a turnover of 31,171,122 shares, despite an increase in purified terephthalic acid's international prices. Its shares went up by Rs0.66 to end at Rs11.75. Telecard (KSE: TELE) was second with 12,665,336 shares, its shares went up by Rs0.68 to end at Rs3.61.

Telecard remained in the limelight over speculation that the firm may sell its frequency, said Seth. Jahangir Siddiqui Company (KSE: JSCL) was third with 10,417,171 shares and went down Rs0.34 to end at Rs18.40. This is after it was the third most traded share on Wednesday, with 6.52 million shares and closed on its uppercircuit breaker at Rs18.74. Lotte Pakistan PTA Ltd, Pakistan Cables Ltd and Colgate Palmolive (Pakistan) Ltd were the winners of the day, with their share prices going up by 6.22, 5 and 4.74 per cent respectively.

Lafarge Cement Pakistan (KSE: LPCL), yesterday's top gainer, was in the losers list dropping 7.56 per cent to Rs3.62. Pakistan Refinery (KSE: PRL) closed in the red, its share price shedding 2.81 per cent to close at Rs109.08.
COMMENTS
Comments are moderated and generally will be posted if they are on-topic and not abusive.
For more information, please see our Comments FAQ