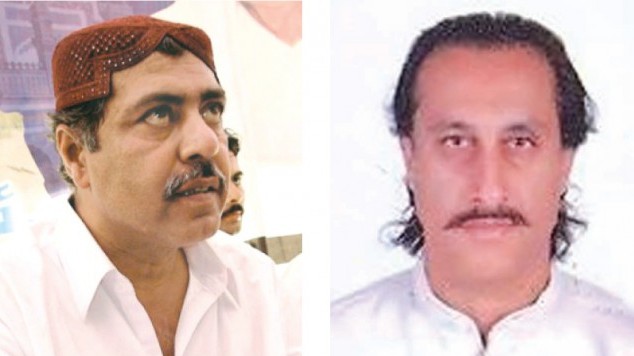 ---
SHAHDADKOT: In a jirga of the Magsi tribe leaders, provincial minister for food Mir Nadir Ali Khan Magsi imposed a fine of Rs1.6 million on Jeay Sindh Qaumi Mahaz (JSQM) chairman Bashir Khan Qureshi and his son for being responsible for a brutal accident two months ago.

On February 22 at the Ratodero Motorway, Qureshi's son, Shanan, rammed his car into a villager's vehicle, which left six people, including two brothers, dead and three others injured. The four brothers were 20-year-old Muhammad, Ahsan, 13, eight-year-old Usman and Sardar Magsi, 7. The other two victims were their cousin, Hakim Magsi and the driver of the car, Muhammad Khan Magsi.

The injured included two journalists, Javed Jamali and Nisar Jamali. According to the jirga's verdict, out of the Rs1.6 million, Rs1.2 million will be given to the families of the victims, Rs150,000 for the two injured people and Rs250,000 for damages to the car. The families of the victims said they have refused to take the fine and have forgiven Shanan.

However, according to officials, the amount of the fine will be paid in two installments; the first will be paid within 15 days and the second, in three months. Earlier, Bashir Qureshi had persuaded Nadir Magsi not to give any decision but when the fine was imposed, they were left stunned, officials added. According to witnesses, the meeting between the families of the victims and Mir Nadir Magsi continued for two hours. Meanwhile, Aurangzeb Magsi, a contractor, did not allow journalists on the premises.

An FIR of the accident was registered against Shanan Qureshi at Sajawal Junejo Police Station on the request of Barkat Ali Magsi, the uncle of the four brothers who died. Barkat Magsi had accused Shanan Qureshi of driving rashly and in an inebriated state, when he hit the car coming from the opposite direction. The police did not arrest Shanan as he was also injured in the accident.

However, officials add that the police did not arrest him because he belonged to an influential family. During the two months before the jirga's verdict, Nadir Ali Magsi went to the US and the relatives of the victims, in his absence, sought the help of activists of different outfits. They also staged protests in the village of Qabu Saeed Khan and demanded the arrest of Shanan Qureshi and financial assistance. MNA Mir Amir Magsi, Nadir Magsi's younger brother, gave Rs20,000 to each of the victims' family members and vowed to provide them with jobs.

When Nadir Khan Magsi returned to Shahdadkot after his visit, he was requested by Bashir Qureshi to resolve the issue through a 'meda' settlement, in which the guilty party and influential people ask the victims' family for forgiveness. But after the two-hour long meeting with the families, Nadir Magsi announced his decision that a fine would be imposed.